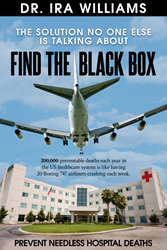 "Dr. Williams challenges every patient safety expert to recognize the patient safety fundamentals that have always been missing in their efforts."
Greenville, SC (PRWEB) September 23, 2014
Dr. Williams says, "Find The Black Box (http://is.gd/UK4Uk0) my third book on healthcare offers a three phase process that can lead to the creation of a 21st century healthcare delivery system that would go far beyond anything previously imagined. First everyone must recognize each state's responsibility regarding the delivery of healthcare."
"Every effort to improve the quality of healthcare and patient safety has failed to provide discernable progress throughout that system because all of the experts have ignored the fundamentals of that system – that was recognized to be a non-system years ago."
Healthcare delivery system fundamentals consistently ignored:
First: Healthcare delivery system is devoid of any systematic characteristics, and this major deficiency was first recognized in IOM To Err Is Human (http://is.gd/2MSBhR) and later in Elizabeth McGlynn's Rand Corp. study (http://is.gd/eqpqXm). Those studies document both that recognition, and their collective failure to also recognize the importance of that organizational deficiency.
Second: States license doctors, and all medical care is local; therefore each state is responsible to create, and maintain an effective healthcare delivery system for their citizens. Unfortunately, no state governor or legislator, past or present, has ever recognized that responsibility.
Dr. Williams says, "Therefore every patient safety expert offering quality of healthcare, and patient safety measures involving organizational change (culture, transparency, etc.) is trying to put a square peg into a round hole. The quarter century of ever increasing needless hospital deaths estimates track record of failure would seemingly document that something very important has always been missing in all of the efforts thus far."
Dr. Williams offers this test, "Every patient safety expert currently offering measures that involve organizational change should be required to describe in detail their state's current healthcare delivery system by naming each component, and identifying any systematic characteristics evident in that system."