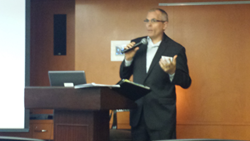 Chicago, IL (PRWEB) September 22, 2014
Leaders of the real estate crowdfunding industry gathered in Chicago on Thursday for RealCap Chicago, a conference introducing online capital to real estate entrepreneurs. RealCap was produced by The Soho Loft Media Group and sponsored by American Homeowner Preservation ("AHP"), a real estate crowdfunding platform based in Chicago. David Drake, Founder and Chairman of the Soho Loft moderated the event while AHP's Founder and CEO Jorge Newbery addressed the crowd as the event's keynote speaker.
In Newbery's address, he highlighted experiences from his own real estate career and noted the tremendous advantages today's entrepreneurs have through the availability of crowdfunding. Newbery started out in real estate in the mortgage industry before moving on to purchasing and developing distressed properties nationwide. Newbery noted that real estate crowdfunding streamlines interactions between real estate entrepreneurs and investors.
"In financing the purchase of properties 10 or 15 years ago, I would often go to a handful of investors who were able to commit large sums to single projects, making the process both exclusive and inefficient," said Newbery. "Today, with the inception of real estate crowdfunding, you can host a financing campaign online to get $5,000 here and $100,000 there from many different investors. The process is transparent, to the great benefit of entrepreneurs as well as investors."
Newbery was joined by members of other leading platforms including fellow event sponsor PeerRealty, Patch of Land, GroundBreaker and ShareStates. Following Newbery's speech and informative panels, conference attendees participated in workshops including How To Get Your Project Funded Online, Marketing and Publicity Strategies to Make Sure Projects Are Funded and How To Create Your Own Crowdfunding Platform.
Throughout the conference, different industry leaders provided their insight into the nascent industry of real estate crowdfunding. Jason Fritton, Co-Founder and COO of Patch of Land stated that, "Crowdfunding brings the daylight to the dark room of private lending." Drake, who was instrumental in lobbying for legislation of the JOBS Act shared an interesting acronym to describe the crowdfunding industry. "Crowdfunding is SPICE," Drake said. "Service, product, investment, charity, experience."
In educating attendees about this evolving industry, the leading experts addressed the concern of investor protection when investing online. "As with any investment, performing due diligence is extremely important, both for the individual offering as well as the platform," Newbery said.
American Homeowner Preservation is a socially responsible investment fund manager which empowers accredited investors to purchase equity in pools of distressed mortgages and earn returns of 9-12%. For further information or inquiries please visit https://ahpinvest.com or call 800-555-1055.