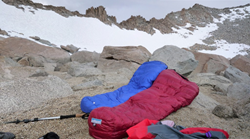 Your sleeping bag is the most important insulating layer that is carried on any wilderness excursion.
Cheyenne, Wyoming (PRWEB) September 21, 2014
OutdoorGearLab has released the award winners for its new review of top backpacking sleeping bags.
Its review of the industry's leading products included brands like Western Mountaineering, Kelty, Mountain Hardwear, Sierra Designs, and Marmot. First published in 2013, this review has now been updated and includes nearly thirty different models tested, including both down and synthetically filled designs. Also included in this review are detailed descriptions of the different types of bags available and a buying advice article that explains insulation material options as well as other key points for consumers to consider when making their purchasing decisions.
The Editors' Choice award winner – Western Mountaineering Alpinlite
From a small manufacturing company out of California, Western Mountaineering is famous for producing supreme down products at their factory in San Jose. According to gear Editor Mike Phillips, "The Alpinlite is light but comfortable and warm. A little bit wider than its predecessor the Ultralite, the Alpinlite boasts baffles filled with five inches of lofty quality down fill and the zipper is reliable and slides very easily. The Alpinlite is a great choice for three season backpackers."
Best Buy award winner – Kelty Cosmic Down 20
Best for car camping and infrequent backpacking, the Cosmic Down 20 won Best Buy award for being a remarkable value. Gear Editor Phillips explains, "The Cosmic Down 20 is a simple budget bag made with down insulation which makes it more comfortable, compressible and lighter than most other products in its price range."
Top Pick award winner – Sierra Designs Backcountry Bed 800
The Sierra Designs Backcountry Bed 800 wins Top Pick for being the most comfortable and having the most unique design that incorporates a sleeping bag with an ultra-light quilt that has pockets. Phillips states, "Though we wish it was a little bit lighter and more packable, the Backcountry Bed 800 was extremely comfortable and roomy and its design allows for great temperature regulation via the attached quilt or the foot box which is vented. We highly recommend it for mild summer weather, for uses other than backpacking, and for those that value comfort over lack of weight and spend a lot of time in their bag."
Top Pick award winner – Sea To Summit Spark Sp II
The Sea To Summit Spark Sp II was another Top Pick award winner, this time for being the lightest and most compressible product recommended for fast and ultra-light mountaineering, climbing and backpacking trips. Phillips reports, "Those that are committed to lightening their load, should consider the Spark Sp II. It is designed with a minimal amount of features so as to remain incredibly light. At only one pound and still remaining incredibly warm with its 850+ down fill, we highly recommend this product for those whose goals involve super light and quick stealth missions and who are not looking for a product with a lot of versatility."
Top Pick award winner – Mountain Hardwear Ultralamina 15
Rated Top Pick for being the highest scoring synthetically filled design, the Ultralamina 15 is recommended by gear review Editor Phillips for being the best bag for three season extended trips in wet weather. Reviewers who spent months in damp conditions in Patagonia, big wall climbers, Outward Bound students and National Outdoor Leadership School educators all gave the Ultralamina 15 rave reviews for performing exceptionally, even when soaking wet. According to Phillips, "It had great features such as a hood opening that wasn't too big and a neck baffle that kept the warm air inside. The Ultralamina 15 was lightweight, comfortable and soft, especially for a synthetic bag."
Based in Cheyenne, Wyoming, OutdoorGearLab, LLC is focused on streamlining comparison-shopping by producing the world's best outdoor gear reviews. A free resource for consumers, the website, http://www.outdoorgearlab.com, offers detailed reviews of leading products for outdoor athletes and enthusiasts. The website has reviews in the categories of hiking, camping, backpacking, climbing, running, cycling and skiing. The goal is to assist in solving purchasing decisions by presenting consumers with relevant comparison data and observations. The review team performs side-by-side tests of gear and publishes the results in comprehensive reviews illustrated with photos. Each product is scored across a range of weighted metrics, competing products are ranked, and winners are selected from the top scoring models.