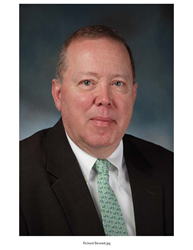 "In my years working in the transportation industry and at VDOT, I have always respected Bowman's focus on providing high quality services in a timely manner. I am thrilled to now be a member of the Bowman team"
Chantilly, VA (PRWEB) September 22, 2014
Bowman Consulting today announced that Richard Bennett has joined its Richmond, Virginia office as Director of Right of Way and Utility Coordination Services. Mr. Bennett brings more than 46 years of experience in the transportation and utility sectors, 37 of which he served in various capacities at the Virginia Department of Transportation (VDOT). He will be actively involved in Bowman's right of way acquisition efforts, relocation consulting, utility coordination, and railroad coordination.
"Richard brings an unparalleled institutional knowledge of VDOT and the transportation arena as a whole," said Gary Bowman, President of Bowman Consulting. "His experience and talent will be a tremendous asset to our clients and further strengthens our position as a leader within this market."
"In my years working in the transportation industry and at VDOT, I have always respected Bowman's focus on providing high quality services in a timely manner. I am thrilled to now be a member of the Bowman team," said Mr. Bennett.
Mr. Bennett most recently served as VDOT's State Right of Way and Utilities Director, providing leadership and direction for statewide right of way, utility, railroad, and property management programs. Previously, he was Assistant Director of VDOT's Right of Way and Utilities Division, administering the statewide right-of-way acquisition program for major areas of the state and the statewide utilities, information technology, and consultant programs. Prior to being named Assistant Director, he served as VDOT's State Utilities Engineer, managing and directing VDOT's statewide utility program. For 11 years, he was involved in the preparation and review of utility relocation designs and specifications for inclusion in VDOT transportation projects. Mr. Bennett has also served as a liaison with railroad companies coordinating transportation projects that impact railroad facilities, and was a project designer with VDOT's Location and Design Division serving in various positions for 10 years. In addition to his service at VDOT, Mr. Bennett directed highway projects involving utility relocations and right of way acquisitions at Greenhorne & O'Mara from 1999-2008. He has been involved in Public Private Transportation Act (PPTA) projects since their inception and has been instrumental in the evolution of the PPTA and design-build process.
Bowman Consulting provides a full spectrum of transportation services throughout the country, including highway and bridge design, right of way services, structural design, transportation planning, and traffic engineering. The firm also possesses deep surveying resources employing the most advanced technologies and instrumentation.
About Bowman Consulting
Bowman Consulting is a multidiscipline design firm with the singular mission of "delivering success to clients with a sense of urgency." With more than 30 offices across the country, the company serves a broad array of industries including oil and gas, urban land development, transportation, water resources, and mining. Bowman has garnered numerous awards and recognition for growth, as well as for environmentally sensitive designs. http://www.bowmanconsulting.com.