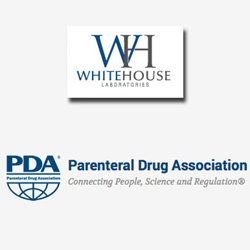 We are happy to provide a platform that will enable conference participants to work hands on with the instruments that can advance and improve the a
Whitehouse, New Jersey (PRWEB) September 30, 2014
Whitehouse Laboratories is pleased to announce that it has been chosen by the Parenteral Drug Association (PDA) to host a unique two-day course (November 18 and 19, 2014) on container closure integrity testing. This lecture/laboratory course will examine the most current container closure integrity test methods and philosophies detailed in the recently proposed revision to USP 1207 Sterile Product – Integrity Evaluation. The course will span container closure integrity testing (leak testing) critical for assuring protection suitability of primary packages, delivery devices and bulk product packaging.
The goal of the course is to provide the participant with a working knowledge of container closure integrity requirements, an awareness of the various test methodologies available for use as well as the pros/cons of each approach, practical experience in performing each method in a laboratory setting, and a grasp of how to select/develop/validate such methods. Application of the information presented will help ensure the development of packages well-suited for product protection, the ability to meet stricter regulatory demands for package integrity assurance, and lowered risk of manufactured product integrity failures.
This two-day course will include both a classroom-based lecture component with opportunities for participant dialogue led by Dr. Dana Guazzo, as well as a hands-on laboratory component using a variety of leak test instrumentation. The laboratory component will be conducted by Justine Young and Brandon Zurawlow at Whitehouse Laboratories, and will focus on vacuum decay, high-voltage leak detection, laser-based headspace analysis, tracer gas leak detection by helium mass spectrometry, mass extraction, residual seal force testing and airborne ultrasound test methods.
"Having the opportunity to work directly with the PDA in support of this critical educational event is an honor for Whitehouse Laboratories," stated Mark Stier, Chief Operations Officer. "We have made a strong commitment and investments in the area of pharmaceutical container leak testing, are we are happy to provide a platform that will enable participants to work hands on with the instruments that can advance and improve the area of leak testing. I am confident all attendees will come away with a new level of knowledge."
The format and agenda for the course are very similar to programs that have been supported by PDA Europe over the past two years with great success. Key instrument and technology supporters scheduled to be on hand include Packaging Technologies and Inspection (http://www.ptiusa.com); Advanced Leak Testing Inc. (http://www.atcinc.net), Leak Detection Associates (http://www.heliumleak.com), Lighthouse Technologies Incorporated, (http://www.lighthousetechnologies.com), and Genesis Packaging Technologies (http://www.gen-techno.com) and Lenox Laser (http://www.lenoxlaser.com). Course participants will have the opportunity to work side by side with the instrument and technology leaders to promote an enhanced understanding of the various methods available to ensure containers meet the strict regulatory requirements when it comes to leak detection.
Due to the unique course set up, the enrollment will be limited to only 24 participants to ensure individualized learning. To register for the course, please visit the Parenteral Drug Association website (http://www.pda.org)
Whitehouse Laboratories
The Testing Partner to Manufacturing Companies, Whitehouse Labs is an FDA regulated, DEA Licensed, ISO 17025 and ISTA certified contract service provider to the pharmaceutical, medical device, personal and consumer product industries. Whitehouse Laboratories offers analytical services for the testing of materials, finished products, container and package systems that enable our clients to meet and exceed the required quality standards established by the key regulatory agencies.
Parenteral Drug Association
The Parenteral Drug Association (PDA) is the leading global provider of science, technology and regulatory information and education for the pharmaceutical and biopharmaceutical community. Founded in 1946 as a nonprofit organization, PDA is committed to developing scientifically sound, practical technical information and resources to advance science and regulation through the expertise of its nearly 10,000 members worldwide. In addition to sponsoring educational conferences and training courses, PDA publishes the PDA Journal of Pharmaceutical Science and Technology and the PDA Letter, which focus on current industry and regulatory news. In keeping with its nearly 70-year history of promoting the growth of pharmaceutical science and technology, PDA introduced the PDA Training and Research Institute (PDA TRI) in May 1997 to provide practical and implementable continuing education courses.