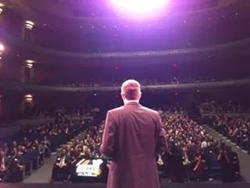 "Tampa has unlimited opportunities, and we're excited to be pioneers in developing the Bay Area," --Nitro Mobile Solutions CEO Pete Slade
Tampa, Fla. (PRWEB) September 22, 2014
Nitro Mobile Solutions, a leading provider of full-service native mobile applications and platforms, was selected as the winner of the Greater Tampa Bay Chamber of Commerce's 2014 Small Business of the Year Awards in the 5-20 employees category.
The SBOY competition consists of three rounds: first, an in-depth written application; next, an in-person interview held at the Chamber of Commerce; and finally, a one-hour onsite interview held at each competitor's office. The final award is rewarded based off of a cumulative score and is presented to the small business that best represents Tampa's small business community.
"We could have started Nitro anywhere. We have customers all over the United States… we could have taken our business to Silicon Valley. But we chose Tampa for a reason. We truly consider this city our home. Tampa has unlimited opportunities, and we're excited to be pioneers in developing the Bay Area," said Pete Slade, CEO, during his acceptance speech.
Businesses in the competition are analyzed with five judging criteria:

History and philosophy (ethical business practices)
Management (business goals, planning)
Operational management (personnel, profitability, administrative processes)
Innovativeness and response to adversity/economic conditions/competition
Leadership and community contributions
Nitro was in competition against four other Bay Area businesses in this particular category. Businesses must be nominated to enter the competition. They also must be headquartered in Tampa Bay, for-profit with 5-250 employees, and must have conducted business for at least three complete years. This year's competition theme was "The Amazing Race."
About Nitro Mobile Solutions:
Nitro Mobile Solutions is a software development company providing enterprises and financial institutions with full-service native mobile applications and platforms. We provide our clients with the ability to build, edit and manage their mobile solutions—all within a single mobile infrastructure, and without the need for technical experience. Nitro uniquely delivers the complete mobile ecosystem you need. Our patent-pending middleware, NitroServer™, connects disparate data systems and hosts ME2, the easy-to-use content management system you've been waiting for. For more information, visit nitromobilesolutions.com and connect with us on: Facebook | Twitter | LinkedIn | Google+