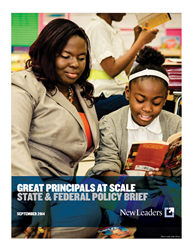 New York City, NY (PRWEB) September 23, 2014
New Leaders, Inc. is set to release their latest policy publication on September 23, 2014. Great Principals at Scale: State & Federal Policy Brief is a follow-up publication to their most recent report written in conjunction with the George W. Bush Institute's Alliance to Reform Education Leadership, Great Principals at Scale: Creating District Conditions That Enable All Principals to Be Effective. This brief is the latest in a series of policy, practice, and research publications available from the education non-profit.
The State & Federal Policy Brief describes actions that state and federal policymakers can take to promote the local conditions research has found support effective school leadership across an entire school district.
"States and the federal government have a role in changing the way districts support effective leadership in every school;" said Jean Desravines, CEO of New Leaders, Inc. "To scale and sustain school improvement, state and federal leaders must recognize the important role that districts play and promote and model large shifts in organizational culture and operations."
This brief is informed by the latest research, lessons from implementation of New Leaders own program continuum, the work New Leaders already undertakes with districts, states, and leadership programs across the country, and best practices from state departments of education.
New Leaders works to transform leadership in high-need, low-income schools by developing transformational school leaders and designing effective leadership policies and practices for school systems across the country. Through the multifaceted work, New Leaders recognizes the need for conditions to support effective leadership at scale and advocates for policies and practices related to principal and teacher effectiveness, human capital management, standards and assessments, and other measures. The organization recruits, trains, develops, and supports teacher leaders and school leaders in the Emerging Leaders and Aspiring Principals programs. They also provide ongoing support to principals through Principal Institute and to leaders and their instructional leadership teams with the newly launched Leadership Practice Improvement Program.
Great Principals at Scale: State and Federal Policy Brief is the latest policy publication for New Leaders. Information on the other research and policy recommendations, as well as tools for implementing best practices with regards to leadership development, can be found at their website: http://www.newleaders.org/newsreports.
ABOUT NEW LEADERS
New Leaders is a national nonprofit that develops transformational school leaders and promotes the system-level conditions that allow strong leaders to succeed. Founded in 2000, New Leaders has trained more than 1000 school leaders who are raising student achievement and graduation rates in high-need schools across the country. Beyond its signature principal training program, New Leaders conducts leadership development with existing school and district administrators, and designs effective leadership policies and practices for school systems nationwide. For more information, visit http://www.newleaders.org.