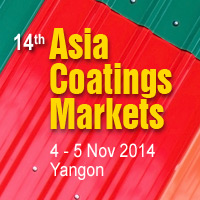 Major paint and coatings industry leaders will gather at the summit to assess unprecedented business prospects in the Asia Pacific region.
Yangon, Myanmar (PRWEB) September 23, 2014
Coupled with the central theme of 'Paints to Prosper in Affluent Asia' and the prediction that Asia Pacific will represent 50% of the global coatings volume of 40 billion liters, the key presentations line-up include 'Asia Coatings Market Outlook' by Chris de Lavigne, Global VP, Industrial Practices, Frost & Sullivan and 'Architectural & Decorative Coatings Market Outlook' by Jeremy Rowe, Managing Director, South East Asia & Pacific, AkzoNobel Paints (Asia Pacific) Pte. Ltd.
The annual gathering, held this time in Yangon will highlight the opportunities of Myanmar's paint and coatings market with Dr. Nwe Ni Wai, Executive Director, United Paint Group (UPG) discussing 'Myanmar Coatings Industry: Market Outlook and Opportunities in the Next 5 Years' and Ms. Petcharat Eksangkul, Managing Director, Eason Paint Public Co addressing 'Venturing into Myanmar: Perspective of a Foreign Coatings Producer'.
Further Kenneth Lim, Associate Director, Rajah & Tann NK Legal Myanmar Company Limited will provide key insights on 'Entry Strategy in Myanmar' while a session on 'Myanmar Real Estate Transformation in the Next 3 to 5 + years' will be delivered by Dan Davies, Associate Director, Colliers International Myanmar.
The other vital sessions at this event, in which United Paints Group is the Corporate Sponsor, are:

Latest building designs in Asia: Architect's Perspective – Miguel Sousa, Associate Director, Broadway Malyan
Indonesia's Coatings Market Outlook and Trends – Jun de Dios, President Director, PT. ICI Paints Indonesia
Strategic Raw Material Procurement and Supply Chain Management for Paint Manufacturers – Jayanta Poddar, Chief of Procurement, Supply Chain and Operations, ACR Coatings Pvt. Ltd
Case Study: Increasing Profits in the Asia Coatings Industry – Siddharta Sengupta, President, Arkema Chemicals India Pvt. Ltd.
Titanium Dioxide Market Outlook for Next 12 months – Laurence Wang, Senior Consultant, China Titanium International
The November conference is expected to be attended by CEOs, MDs, Regional Directors, Business Development Managers / Directors, Marketing Managers, Product Managers, Project Managers, Sales Managers, Technical / R&D Managers from Paint & Coating Manufacturers, Traders, Raw Material Producers / Traders, Consultants, Chemicals & Additives Suppliers / Technology Providers / End-users, etc.
Visit the event website or contact Ms. Hafizah at +65 6346 9218.