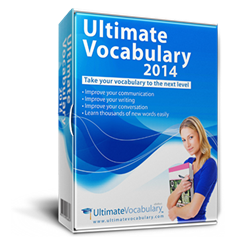 Being word smart is important for everyone, and not just those who are recovering from injury.
New York City, NY (PRWEB) September 23, 2014
Traumatic Brain Injury (TBI) affects thousands of people and their families each year. Ultimate Vocabulary™ hopes to offer useful insights on how speech and language therapy can help TBI survivors improve their quality of life and make the most out of their new reality.
TBI survivors often suffer from impaired linguistic ability and even cognitive function limitations. In its latest blog post, eReflect explains that speech therapy can be a vital first step to making verbal communication for TBI survivors less stressful and more enjoyable.
A speech therapy session for a TBI survivor first evaluates the damage and the improvement scope for the TBI survivor. Factors like facial deformities and brain damages that affect language and communication modules need to be considered when setting out a plan for speech and language therapy for TBI survivors and their families.
Vocabulary building and vocabulary recall are two of the most significant challenges speech therapy grapples with and helps people overcome. Speech therapy essentially helps survivors get a grip on their day to day activities and not feel self-conscious over their reduced linguistic output.
While it is often impossible for many TBI survivors to fully recuperate in terms of language production, improved word power and better literacy skills are feasible goals through consistent language therapy and support.
Being word smart is important for everyone, and not just those who are recovering from injury. Word knowledge is not about using fancy words, but being able to eloquently and effortlessly produce linguistic output that's coherent, sensible, and easy to understand.
After a thorough series of language therapy sessions, many TBI survivors are able to produce clear, understandable speech, improve their memory in terms of storing and recalling words and grammatical rules, and express themselves coherently, forming valid arguments that follow a logical sequence. Improving vocabulary and spelling are other language aspects speech therapy improves upon. The main takeaway, eReflect highlights, is that speech and language therapy need to be considered as integral aspects of any TBI survivor's rehabilitation process.
***********
For more information on how you can benefit from Ultimate Vocabulary, please visit its official website, http://www.ultimatevocabulary.com.
About Ultimate Vocabulary™
Ultimate Vocabulary provides a proven and powerful platform, built to improve anyone's vocabulary.
The interactive self-improvement system provides more learning tools than any other program on the market, as well as more information on words.
The Ultimate Vocabulary software provides each and every user with a personal computer tutor. Providing a step-by-step guide to learning a powerful vocabulary, Ultimate Vocabulary is the learning tool everyone can benefit from.
Of course, the software is also backed by eReflect's iron-clad money back guarantee.