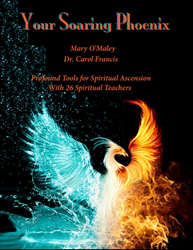 Cynthia Sue Larson Contributing Author to Your Soaring Phoenix reveals the application of Quantum Age research to everyday life.
San Francisco, CA (PRWEB) September 22, 2014
Cynthia Sue Larson delineates how reality shifts related to quantum physics. Larson's insights pertain to daily chores, personal empowerment, and psychological health in her book "Quantum Jumps: An Extraordinary Science of Happiness and Prosperity." Cynthia Sue Larson's chapter in newly released book  "Your Soaring Phoenix" details these quantum physics shifts as related to qubits, supercomputers, and even spiritual practices. Today on Dr. Carol Francis Talk Radio, Cynthia Sue Larson activates listener's science and spiritual integrative consciousness as she does in the book YOUR SOARING PHOENIX, and Larson explains how these discoveries apply to everyday living both live and podcast at this link.
About Dr. Carol Francis Talk Radio Guest: 
Cynthia Sue Larson is a prolific author and Berkeley Graduate. Larson writes about profound experiences and tools which enhance mindfulness, psychological well-being, spiritual experiences and how to shift or to change life's direction for the better. Cynthia Sue Larson's books intricately laced with scientific research studies, history, philosophy and multitudes of experiences include Quantum Jumps, Reality Shifts, High Energy Money, and Aura Advantage.
Cynthia Sue Larson on Reality Shifters.com explains, Experience a New Science of Instant Transformation. The dawn of this new Quantum Age presents you with the radical new paradigm--that you are not your body or your situation, but instead are pure energy, pure consciousness. You exist in an interconnected holographic multiverse in which you are literally jumping from one parallel universe to another with every choice you make. Through such quantum jumps, in a moment you can become smarter... more confident... happier... more outgoing... more effective... in better relationships... with more willpower. You can gain practical tools to achieve real change in your life, and leap forward to become happier and more prosperous, living the life of your dreams. Join me in exploring the place where science comes together with inspiration and imagination, asking "How good can it get?!"
Your Soaring Phoenix released in paperback and ebook in June 2104 features 26 best selling authors, teachers, practitioners and scientists who cover 42 consciousness raising topics. Integrating metaphysical, mystical, spiritual topics with empirical research and discussions leads readers to appreciate the empowerment tools available to create the shifts in reality which Cynthia Sue Larson advocates and outlines.
Other best selling authors contributing to "Your Soaring Phoenix" includes Raven Keyes discussing Reiki, Sarah Wiseman expanding the power of Love, Dr. Marjorie Miles conquering cancer, Dr. Heather Friedman Rivera's research on the value of Past Life Regression and Dr. Carol Francis reviewing 100 years of empirical data associated to metaphysical claims.
The 100% five star reviews of Your Soaring Phoenix reveals this is a "must have book." Larson's contribution to "Your Soaring Phoenix" is described by readers with the following:: "I just finished the chapter "Welcome to the Quantum Age," by Cynthia Sue Larson. Larson shares a historical perspective of technology before taking the reader into the realm of possibilities of the Quantum Age. The interconnectedness of spirituality and science emerges in her essay and provides the reader with food for thought on the interconnectedness we all share. Insightful and inspiring. I look forward to reading this whole book and will update when I have done so~" on Amazon.com book reviews.
About the Dr. Carol Francis Talk Radio 
Dr. Carol Francis, Clinical Psychologist and Psychotherapist for 37 years interviews authors, professionals, cause leaders, scientists and health practitioners who think inside the box and outside the box of life. Since 2007, her guests, such as Cynthia Sue Larson, and tens of thousands of listeners have aimed to improve the quality of life through interdisciplinary thinking.
Some other Dr. Carol Francis Talk Radio Show topics include: Molestation by Priests, Incests by Family Members, Fracking the Water to Death, Eating Disorders, Promoting Positive Psychology, Divorce, Child Custody, Hormones and Weight Change, Eating to Improve Moods, Family Court System.