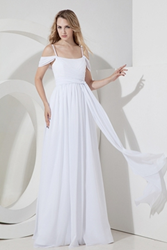 (PRWEB) September 22, 2014
Fancyflyingfox.com, the well-known wedding dress manufacturer and retailer, has recently announced a new collection of 2014 plus size wedding dresses. In addition, the company has also deiced to launch a special offer for these fashionable plus size outfits. Each item in the new range is now provided with a deeply discounted price, up to 65% off.
The company has thousands of unique special occasion outfits for sale; almost all of them are now available at extremely affordable prices. Its products are brand new and made with soft materials.
Fancyflyingfox.com is famous for its elegant items, reasonable prices and sincere online services. By launching the special offer, it hopes to offer more real benefits for worldwide customers. It is true that all its designers have been working in the fashion field for decades. Their vast knowledge and rich experience enhance the quality of Fancyflyingfox.com's products.
At the moment, the firm is busy selling various kinds of graceful products, including coral cocktail dresses, long sleeve wedding gowns, halter wedding gowns, cute party dresses and so forth. In its online store, ladies can also order tailored dresses without any extra charge. All the company's workers are trying hard to help worldwide women to leave a good impression on others.
About Fancyflyingfox.com
Fancyflyingfox.com is the leading online retailer for wedding gowns, special event dresses, wedding party dresses, and accessories. Ladies will find a massive range of high-quality wedding dresses, evening/prom gowns, flower girl dresses and more. Fancyflyingfox.com provides hundreds of dedicated items for global buyers. Now, it is offering thousands of cheap items.
For more details about the company and its dresses, readers can visit http://www.fancyflyingfox.com/plus-size-wedding-dresses-c11/.