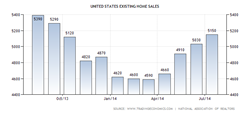 July sales were at their highest point since September 2013
Chicago, IL (PRWEB) September 22, 2014
Peoples Home Equity is looking forward to existing home sales this morning. Existing home sales have risen over the past 4 reports from April to July.
As a reminder an existing home sales is when a home loan is closed. Mortgage closings usually occur 30-60 days after a real estate sale contract is closed.
As shown on TradingEconomics.com, this morning the National Association of Realtors will release its August existing home sales report. The past report showed that 5.15 million existing home sales in July, the forecast is now waiting to show sales at 5.0-5.18 million for August. Peoples Home Equity knows that weekly home sales were not as strong in August as previous months, thus the lender is not getting its hopes up for a 5th consecutive rise in existing home sales. Experiencing a small decline in August would not necessarily be too bad given that July sales were at their highest point since September 2013. The lowest point in the past 12 months was in March 2013 at 4.59 million sales. Any reading close to July's numbers is a win for Peoples Home Equity.
While Peoples Home Equity does expect a seasonal decline in existing home sales in subsequent months, the lender does not expect any large drop off in demand. US real estate is still suffering from low housing inventories and high demand, the consequence of this being pent up property prices. What may have a seriously calming effect on demand will be when the Federal Reserve raises interest rates, thus mortgage rates will climb. Regardless of the performance of existing home sales, home buyers should be prepared for high demand for US real estate. Even if demand declines there is still a high chance that it will continue to outweigh national supply. Home sellers usually accept the highest bidder who is ready to pay the fastest. Peoples Home Equity encourages its prospective mortgage applicants to submit their applications quickly so that they may approved to start bidding on desired homes.
For more information on securing a mortgage pre-approval contact a Peoples Home Equity loan officer today at: 262-563-4026