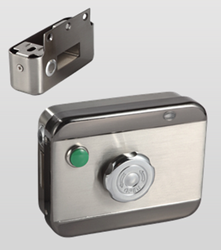 (PRWEB) September 22, 2014
Locks-Magnetic.com, a distinguished online supplier, is offering various kinds of high quality electromagnetic locks. Recently, the reliable supplier has announced its new collection of electromagnetic locks for customers. According to a senior engineer of Locks-Magnetic.com, an electromagnetic lock is a locking device that includes an electromagnet and an armature plate. The electromagnetic locks from Locks-Magnetic.com are well designed and engineered. This company is a great resource for anyone looking for high quality door lock products.
"Our electromagnetic locks come with a range of activation strength, from 100lbs to 1200lbs. All of them are offered at discounted prices, and the current discount is up to 30% off." A sales manager of the company says, "The big discounts are not there every day. Please visit our website now for more new products. In addition, all the products are in stock and ready to ship."
The company is making every effort to create the best locks for the global customers. The slogan of the current special offer is, "Bring huge benefits for all our clients." The most recommended items in this range are 60KG Magnetic Lock, 280kg (600Lbs) Single Door Magnetic Lock and 70KG Single Door Magnetic Mini Lock.
Some details of the company's 60 KG electromagnetic Locks are as follows:
Lock Dimension: 80Lx33Wx19H(mm)
Armature Plate Dimension: 80Lx33Wx9H(mm)
Holding Force: 280 kg (600 Lbs)
Input Voltage: 12/24VDC+10%
Current: 12V/500mA 24V/250mA
Suitable: Wooden door, Glass door, Metal door, Fireproof door
Surface Temp: ≤+20℃
Operating Temp: -10~+55℃(14-131F)
Humidity: 0~90%(non-condensing)
Cover Finish: Anodized aluminum
Lock Finish: Zinc
Armature Plate Finish: Zinc
Weight: 2 KG
About Locks-Magnetic.com
Locks-Magnetic.com is a leading online store of high quality magnetic lock products. With an aim of offering the most affordable and convenient products, the company often announces new innovative products. In addition, it launches big promotions at its one stop website frequently. Customer service is the top priority of this professional supplier.
More details about the company and its high quality products can be found at http://www.locks-magnetic.com/Spirituality/55.html.