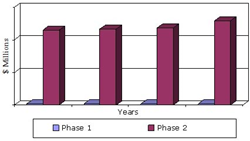 Global Market for Autoimmune Disease Diagnostics to Reach Nearly $13.1 Billion in 2019
Wellesley, Mass. (PRWEB) September 22, 2014
BCC Research (http://www.bccresearch.com) reveals in its new report, AUTOIMMUNE DISEASE DIAGNOSTICS: GLOBAL MARKETS, the global market for autoimmune disease diagnostics is expected to grow to nearly $13.1 billion by 2019, with a five-year compound annual growth rate (CAGR) of 1.6%. Southern Asia holds the highest market potential due to an increasing number of environmental factors and adoption of western lifestyles.
In recent decades, autoimmune diseases have emerged particularly in regions not previously associated with autoimmune risk, namely urban residential areas in Africa, Southern and Eastern Europe, Asia and Latin America. This emergence is attributed to environmental factors and western lifestyles. Among other factors, sunlight (UVR) exposure, nutritional habits, xenobiotics and hygiene have been identified as leading causes to date.
As a region, Southern Asia tops the list with a market potential of nearly $2.8 billion in 2014. It is followed by Europe and North America at about $2.7 billion and nearly $2.5 billion, respectively. Despite having lower incidence and prevalence rates, the market size of Southern Asia is sizable due to its large population.
"Western countries are being confronted with a disturbing increase in the incidence of autoimmune disorders," says BCC Research pharmaceutical analyst Anandi Karumbati. "Dietary factors, sunlight exposure, improved hygiene, along with environmental factors, are attributed to this emergence."
AUTOIMMUNE DISEASE DIAGNOSTICS: GLOBAL MARKETS provides a thorough background of the structure of the autoimmune disease diagnostics market and outlines the chief challenges and opportunities it faces. Forecast revenues are presented from 2014 through 2019. In addition, market size by various segments, namely geographic regions, gender and disease phase (pre-treatment and in-treatment) is included.
Editors and reporters who wish to speak with the analyst should contact Steven Cumming at steven.cumming@bccresearch.com.
About BCC Research
BCC Research publishes market research reports that make organizations worldwide more profitable with intelligence that drives smart business decisions. These reports cover today's major industrial and technology sectors, including emerging markets. For more than 40 years, we have helped customers identify new market opportunities with accurate and reliable data and insight, including market sizing, forecasting, industry overviews, and identification of significant trends and key competitors. We partner with analysts who are experts in specific areas of industry and technology, providing unbiased measurements and assessments of global markets. Our clients include the top companies in industries around the world as well as universities, business schools, start-ups, consulting firms and investment companies. BCC Research is a unit of Eli Research LLC. Visit our website at http://www.bccresearch.com. Contact us: (+1) 781-489-7301 (U.S. Eastern time), or email information(at)bccresearch(dot)com.
Data and analysis extracted from this press release must be accompanied by a statement identifying BCC Research LLC, 49-2 Walnut Park, Wellesley, MA 02481, Telephone: (+1) 781-489-7301; Email: editor(at)bccresearch(dot)com as the source and publisher. Thank you.