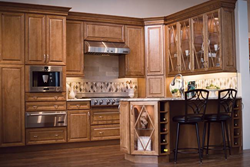 We feel honored that our members felt strongly about our service, quality and selection
Indianapolis, Indiana (PRWEB) September 24, 2014
The Indy A-List is a chance for local shoppers to brag about their favorite locally owned businesses by casting votes to name them the Best of Indy.
With 159 different categories ranging from entertainment to shopping to spas to wedding planning, many consumer services are voted on as being the best in Indianapolis.
DirectBuy of Indianapolis is proud to be nominated in not one, but two categories. Winning first place in Kitchen and Bath Cabinets, and runner up for Best Furniture.
"We feel honored that our members felt strongly about our service, quality and selection to take the time to vote for us and allow us to have the placements in the two categories that fit our products", shared DirectBuy of Indianapolis owner Jack Powell.
DirectBuy of Indianapolis offers the service of free kitchen design to members, as well as top quality cabinet options at a 20, 30, even 45% savings off sale prices found at the big box stores.
Testimonials shared on the Indy A-List ballot really say it all:
"Great selections and the cabinet designer Holly was great. She made our cabinet purchase an amazing experience. We couldn't have done it without her and DirectBuy of Indianapolis." Joseph.
"My husband and I have been members for over 20 years at the Indy club and LOVE DirectBuy! Fantastic club, service and staff. Holly & Tom are especially wonderful as is the warehouse staff! We updated the kitchen in our previous home and have embellished our brand new kitchen with cabinet panels and additional cabinets for about a 1/3 of what the builder was going to charge us for the EXACT same products. We recently just finished our basement, again using DirectBuy for the full bar and bath cabinetry. The project was completed for much less than the builder would have charged and with fantastic finishes not even offered by the builder...linear fireplace with natural stacked stone, full bar with stacked stone face, granite counters, gorgeous cabinets, slate floors, beautiful bath with custom slate shower with body sprayers, slate floor, etc...We even ordered the faucet, shower glass, vanity top/sink and bath hardware through the club. All top of the line, quality products for about 1/2 price - all through our DirectBuy membership. Much gratitude." Michele P.
DirectBuy provides its members with outstanding service, selection and value. With over 80 locations throughout North America, DirectBuy members pay confidential dealer prices, with no hidden retail markup, combined with an amazing selection of products.
Our members select from over 1 million products from 700 popular brands. DirectBuy provides lifestyle-enhancing benefits including travel packages, home improvement products and services, and much more. Our commitment to service excellence ensures that our members have access to unparalleled quality and choice while being guided by experts in purchasing and design.
In addition, DirectBuy of Indianapolis has a referral list of preferred installers. Each installer has been approved by the DirectBuy of Indianapolis service staff, for quality installation and service. This list is shared with those who choose to save money with DirectBuy of Indianapolis for their remodeling projects and products.
DirectBuy of Indianapolis invites consumers to a Free Savings Seminar to find out how members save money by purchasing items at manufacturer prices from over 700 suppliers. In many cases consumers find they are able to purchase higher quality products at lower prices.
Schedule a Free Savings Seminar by calling (317) 472-9810 and receive a VIP Package at the time of the visit. DirectBuy of Indianapolis is located at 8450 Westfield Boulevard which is close to the Range Line and Westfield Boulevard intersection. This is located just west of the Keystone Fashion Mall.
For more information on DirectBuy, visit http://www.indianapolisdirectbuy.com