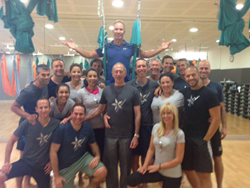 AntiGravity is proud to partner with Holmes Place as we share in many of the same philosophies. We both value originality, quality, and most importantly, the safety of our customers
New York (PRWEB) September 23, 2014
After vetting Christopher Harrison's AntiGravity for nearly two years, Holmes Place has committed to a massive roll out of AntiGravity® Techniques in 2014 and 2015. The AntiGravity Programs, which consist of: AntiGravity® Aerial Yoga, AntiGravity® Suspension Fitness, AntiGravity® Pilates, AntiGravity® Restorative Yoga, AntiGravity® Kids, and AntiGravity® AIRbarre are designed for all age groups and fitness levels.
AntiGravity Techniques, launched in 2007, started the aerial yoga genre and have been embraced by numerous celebrities: from Gwyneth Paltrow to Madonna and Richard Branson. AntiGravity Fitness, with licensed studios in over 60 countries, has the following benefits: Decompression of spine, hydration of vertebral discs, happy hormone release, mobilization of tight joints, increased spatial awareness, core strengthening, body/mind balancing, and increased neuroplasticity of brain.
Christopher Harrison, founder of AntiGravity (established 1991) and the creator of the techniques, has codified hundreds of proprietary sequences and thousands of moves that allow persons of all ages and backgrounds to benefit.
"AntiGravity is proud to partner with Holmes Place as we share in many of the same philosophies. We both value originality, quality, and most importantly, the safety of our customers" says Harrison. AntiGravity is known for its safety protocols having been involved in the creation of aerial flying standards on Broadway and in numerous aerial performances for celebrities, including Mariah Carey & Pink.
"Christopher is undoubtedly the leading expert and innovator in this exciting area.  His passion for education and enjoyment in exercise resonate with the Holmes Place values. AntiGravity opens up a vista of exercise opportunities that were previously neither safe nor practical for the majority of our members. People come out of the classes looking a couple of years younger; it is really transformative and enjoyable – exactly what Holmes Place looks to deliver." says Holmes Place chairman, Jonathan Fisher.
Quality training is at the top of both AntiGravity's and Holmes Place's agenda. Well-trained instructors will deliver top-level classes at Holmes Place facilities from Portugal to Israel. Together, they are establishing AntiGravity teacher training centers in Lisbon, Berlin, and Tel Aviv. Classes started in August at select locations in Portugal.
About AntiGravity Fitness:
AntiGravity, founded in 1991 by Christopher Harrison, is an entertainment and fitness brand that makes aerial performance and acrobatic elements into certified techniques that are accessible to everyone. AntiGravity evolves an athletic, artistic form of movement in vertical space and applies proprietary equipment and sequencing to improve participants' well-being through choreography and routines. AntiGravity's fitness programs and its over 2,500 athlete-artist instructors inspire participants at over 190 licensed studios in over 60 countries.
About Holmes Place:
Holmes Place is a premium wellness brand that has been operating health clubs for over 30 years and serves over 250,000 members.
Widely considered today to be the leading premium fitness brand in Continental Europe, its portfolio of over 80 clubs across 9 countries continues to grow.
Holmes Place clubs offer stylish yet classic atmospheres that appeal to the differentiating consumer, appreciative of high quality facilities as well as professional, courteous service.
The Holmes Place offering is underpinned by its slogan "one life. live it well" which engenders an holistic approach to health and well-being that combines exercise, nutrition, relaxation and a positive attitude to life.