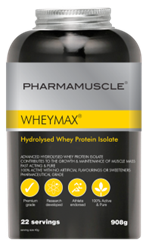 "Our customers are already contacting us with success stories after purchasing Pharmamuscle Wheymax. We're pleased that they are seeing the benefits and Vitamin Planet will continue to stock the purest product of its kind here in the UK." - Ryan Malting
(PRWEB UK) 22 September 2014
A recent study looking into supplement usage during resistance training has found that soluble milk protein - such as whey protein - reduces muscle fatigue significantly in comparison to micellar casein.
The study, published by the Journal of the International Society of Sports Nutrition (1), saw three study groups each participate in a ten week training programme, with muscle fatigue being measured after 4 weeks and 10 weeks respectively.
Each of the groups received a different supplement to take throughout the study, with one given a placebo, one given soluble milk protein, and one given micellar casein. The decrease in power of those in the soluble milk protein group was found to be significantly lower after both four and ten weeks of the programme.
Vitamin Planet supplies the UK's highest quality and most pure soluble whey protein supplement. Pharmamuscle Wheymax (2) is a hydrolysed whey protein isolate, which ensures that the pure whey protein is partially broken down to aid adsorption. It is also the only soluble whey protein supplement to have been approved by the Vegetarian Society in the UK.
Marketing manager Ryan Malting commented, "Our customers are already contacting us with success stories after purchasing Pharmamuscle Wheymax. We're pleased that they are seeing the benefits and Vitamin Planet will continue to stock the purest product of its kind here in the UK."
References:
(1) http://www.jissn.com/content/11/1/36 (Published 11th July 2014)
(2) http://www.vitaminplanet.co.uk/wheymax-174-hydrolysed-whey-protein-isolate-p-179097.aspx