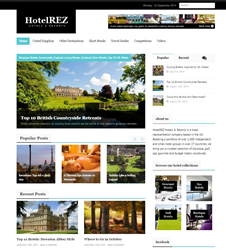 Nobody does local better than an independently owned hotel.
(PRWEB UK) 22 September 2014
On the occasion of its 10th anniversary HotelREZ Hotels & Resorts announces the launch of its new consumer travel blog, aimed at inspiring travellers worldwide. Part of a larger content marketing campaign initiated earlier this year, which included the launch of the company's new online booking website, the HotelREZ Hotels & Resorts travel blog hopes to fill a gap in the market by providing travellers with relevant content concerning independent and unique hotel accommodation options worldwide, alongside authentic travel guides and tips written by local experts.
Sharon Wimborne, Executive Director Marketing & e-commerce explains:
"HotelREZ Hotels & Resorts covers a unique portfolio of independently owned, unique and charismatic hotels worldwide which we believe suits today's independent and online savvy traveller, looking for authentic experiences in the destination of his/her choosing. Through our travel blog we aim to help inspire travellers presenting them not only with unique accommodation options that suit their desire to travel and stay somewhere that is characteristic to its local environment, but also provide them with practical tips and ideas to further fuel their wanderlust."
By proving travel content that is relevant to consumers looking to book their next holiday break, the HotelREZ Hotels & Resorts team aim to produce different pieces of travel content including mini travel guides, expert travel tips, and original short break suggestions in the UK and abroad. From romantic castles in Ireland, to secluded countryside villas in Tuscany, authentic Moroccan Riads, or cave-inspired resorts in the Cappadocia mountains of Turkey, the HotelREZ Hotels & Resorts portfolio provides customers with genuine, rich accommodation experiences.
"Nobody does local better than an independently owned hotel." Sharon Wimborne concludes.
ABOUT HOTELREZ
HotelREZ Hotels & Resorts is a hotel representation company providing distribution, revenue, sales and marketing services and support to over 1,000 independent hotels and small hotel groups in over 27 countries. A UK based company HotelREZ is one of the world's largest yet tailored hotel representation companies, with international alliances, exclusive partnerships and a global footprint with an international presence and staff in local markets.
For additional images and information please email us at marketing(AT)hotelrez(DOT)net