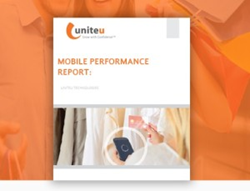 Most retailers are missing a huge opportunity with their mobile sites.
Rochester, NY (PRWEB) September 22, 2014
Mobile commerce page load times are very slow, and product pages load times are even worse. UniteU, a leading mCommerce integrator has released a new report with surprising results, this small sampling of the data from the report, makes it clear there is still a lot of room for improvement in the world of mobile commerce. The Mobile Commerce Report 2014 was released on the heels of the Internet Retailer Conference and Exhibition (IRCE) in June. At the Chicago tradeshow UniteU announced the industry's largest mobile speed test and site survey, and invited attendees to participate.
The survey was inspired by a similar study performed by Internet Retailer magazine for their June 2014 issue. The UniteU report measures mCommerce site speeds and capabilities for a broad range of retailers, from multi-billion-dollar leading retailers to small and medium eTailers. Rather than restricting mobile approaches to pure responsive design solutions, the company included other design and technical approaches taken by specialized mobile vendors, including custom-built solutions, and more traditional "www dot" and "m dot" sites.
"The survey results corroborate what Internet Retailer, Forrester Research Inc. and others have published about mobile site performance and conversions," said Soumen Das, founder and CEO of UniteU. "Most retailers are missing a huge opportunity with their mobile sites." If retailers want to perform this holiday season, they need to act now and optimize their mobile sites. A recent report from Forrester Research Inc., "US Mobile Phone and Tablet Commerce Forecast 2013 to 2018," states that $26 billion dollars are expected to be transacted on mobile devices by the close of this year, meaning a large percentage of sales are expected to be transacted on mobile devices this holiday season.
UniteU's report reveals twenty-two out of twenty-six sites surveyed showed a load time of longer than 13 seconds for the home page over a 3G network connection. The average home page load time was a woeful 25.75 seconds. For product pages, the worst load time recorded was 50.41 seconds. And that test result came from a multi-billion dollar company. The average product page load time was 29.83 seconds.
The report has already been featured by Internet Retailer's Managing Editor for Mobile Commerce Bill Siwicki in his exclusive article, "Exclusive: Retailers' product pages load even more slowly than home pages on smartphones." In discussing the importance of speeding up page load times to increase conversions Siwicki points out that, "UniteU's flavor of hybrid responsive design actually builds two versions of a site, one for desktops and tablets and another for smartphones, enabling the vendor to greatly reduce the amount of data sent to smartphones and thus speed up page load times."
In addition to simply testing the speed of the participants' sites, UniteU identifies and measures the key technical approaches that impact conversions.
"There must be a balance between speed and branding," said Das. "If you eliminate all of a company's rich branding and product information, speed will improve, but conversions will suffer because the customer does not have enough information to make an informed purchase decision."
Improving conversions is the ultimate goal for mobile sites, Das says, and he hopes retailers will gain a greater understanding of the advantages and opportunities of hybrid responsive design by considering the insights detailed in the study and in turn will implement new strategies that will improve speed and conversion to optimize holiday revenue. "It is my hope that through this report retailers will be inspired by the opportunity to approach responsive web design in a more customer centric manner. We have extensive data that shows that a hybrid of both responsive and adaptive approaches delivers higher conversion rates through increased speed and a vastly improved customer experience."
The Mobile Commerce Report 2014 is currently available at http://www.uniteu.com/mobile-responsive-design.aspx
About UniteU Technologies (http://www.uniteu.com):
UniteU creates technology that allows retailers to provide unified commerce experiences across channels and devices. UniteU offers a wide range of solutions and services including Hybrid Responsive™ mobile commerce, uMobile POS™ and UniteU Commerce™, a powerful commerce platform that embodies more than a decade of omnichannel insights and high-volume experience. Superior technology and performance has resulted in an impressive client list that includes Pharmaca, Joes Jeans, Edwin Watts Golf, City Sports and the Miami HEAT.