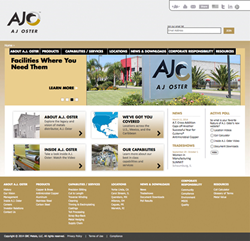 Our goal was to make AJOster.com as dynamic as the company itself. And I believe we succeeded
Warwick, Rhode Island (PRWEB) September 22, 2014
In the first major update to its online presence since 2010, leading metals distributor A.J. Oster has launched an all-new corporate website designed to bolster its online presence and streamline the process of doing business for customers and vendors alike.
"We recognize that in our industry today, more and more of everything is being done electronically," said Joe Woo, A.J. Oster's V.P. of Marketing. "This is the first of several steps we're undertaking to facilitate that reality. We're excited with the results, and we believe our customers and vendors will be, too."
The new site is designed with customer needs in mind and incorporates a number of uniquely user-friendly features throughout. These include a coil calculator which allows customers to quickly estimate the amount of metal material needed for a given job, as well as extensive reference capabilities that invite users to download essential technical documents and subscribe to a weekly letter detailing market values of various metals like copper and brass.
Perhaps the most dramatic aspect of the new site is the exceptional amount of professionally produced video content. The collection includes "Inside AJ Oster," a 2½-minute company overview; "Working at AJ Oster," which profiles a number of key individuals within the organization; and a series of shorter clips focusing on each of the company's six metal service center locations throughout North American and the Caribbean.
"We think the videos are really key to telling our story in the metals industry," Woo pointed out. "Our people and leaders are what drive the success of our organization, and I believe that really shines through in each and every one of these clips."
But of course, the most important measure of the new website's effectiveness is how useful it is to customers and suppliers – which is why it was designed to be equally accessible with virtually any device, from smartphones and tablets to laptops and desktop PCs.
"With so much of everyone's day-to-day business shifting to the web and online communications, we understand the importance of designing the space to meet their needs, and save them time and trouble in the process," Woo finished. "Our goal was to make AJOster.com as dynamic as the company itself. And I believe we succeeded."
A subsidiary of Global Brass and Copper Holdings, Inc., A.J. Oster is North America's foremost distributor of metal foil, strip and sheet products. The company is headquartered in Warwick, RI and maintains six distribution facilities in the continental U.S., Mexico and Puerto Rico. For more information, please visit AJOster.com.