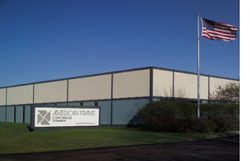 "We have always seen ourselves as a partner and supporter of artists, students, teachers, and the community at large"
(PRWEB) September 23, 2014
American Frame Corp. of Maumee, Ohio is moving its offices out of its manufacturing and showroom facility at 400 Tomahawk Drive in order to make way for a significant expansion. "We need the space for a brand new state-of-the-art Showroom and Learning Center for our customers," American Frame President Laura Jajko explains. "The Center will provide an unprecedented experience in custom framing and displaying art from start to finish."
The Showroom and Learning Center will feature wide open work spaces for customers to design frame treatments and receive personal assistance, comfortable meeting rooms to accommodate art and photography groups or other community organizations, an expanded and upgraded photography studio, classes on framing techniques and art reproduction, and gallery space for exhibits and openings. These services and spaces will put American Frame at the center of the local art community. "We have always seen ourselves as a partner and supporter of artists, students, teachers and the community at large," Jajko says. "Art brings people together. We strive to be a part of that fabulous process and we know this is the logical next step."
American Frame's new office space at 1684 Woodlands Drive in Arrowhead Park is located only a half-mile from the current location. It features beautiful views of the park and easy access to the production facility and showroom by a walking path. This ensures that the close-management of its processes on which American Frame has always insisted will continue.
The office relocation is expected to be completed in early January, 2015. The new meeting spaces and the Showroom and Learning Center are scheduled to open in the spring.
About American Frame
American Frame provides professional-quality DIY custom picture framing supplies and fine art printing services at wholesale prices direct to the consumer. Its easy web interface allows customers to design a custom frame treatment for assembly in the comfort of their homes or studios. They can also upload a digital image to be printed on canvas or fine art paper and receive framed work ready to hang. All orders are handcrafted in Maumee OH and shipped within 2 business days. Family owned and operated since 1973. Love your art. Frame it right.™