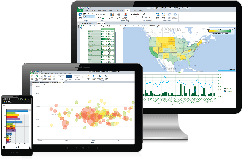 "At the Gartner Symposium, CIOs and senior IT executives will be exploring game-changing solutions for enterprise IT and looking to identify the technologies that address their specific needs. Our presentation with HPP will do just that." - Omri Kohl, CEO
Orlando, FL (PRWEB) September 23, 2014
On Sunday October 5th at 4:45PM EST in the Swan 7-10 room, Pyramid Analytics, joined by customer, Hospital Physician Partners will showcase the successful implications of applying the BI Office solution to Healthcare needs. The BI Office Suite empowers every user in an organization to easily create, share, and publish analytics, presentations, and reports. In a session titled From Zero to Healthcare Analytic Insight in 3 weeks, Pyramid Analytics and HPP will take you through the rapid analytics deployment and demonstrate how BI Office, atop the Microsoft BI platform, helped HPP optimize their business by transforming mountains of data into analytics insight for business and care delivery personnel in just 3 weeks. This session is a must for all those connected or have an interest in the Healthcare industry.
"At the Gartner Symposium, CIOs and senior IT executives will be exploring game-changing solutions for enterprise IT and looking to identify the technologies that address their specific needs. Our presentation with HPP will demonstrate the endless analytics possibilities for those in the Healthcare industry," says Omri Kohl, CEO of Pyramid Analytics.
Pyramid Analytics will be at booth 516 giving a personalized walk-through of the BI Office Suite and its break-through functionality.
About Pyramid Analytics
Pyramid Analytics is a leader in innovative business intelligence and analytics applications with a fully Governed Data Discovery platform. Through the BI Office Suite, it has created a paradigm shift in the Business Intelligence market. As an integrated, web-based, enterprise, self-service solution, BI Office enables all levels of business, IT, and analyst professionals to create and share information to help their organization optimize business decisions -- without any programming.
BI Office is architected for the enterprise and is the ultimate solution for large deployments of multi-dimensional and tabular (In Memory) OLAP cubes based on Microsoft SQL Server Analysis Services. Pyramid Analytics is also a Microsoft Gold partner, with a gold competency in Business Intelligence. Headquartered in the Netherlands with operational centers in the USA , UK and EMEA. Pyramid Analytics is backed by Sequoia Capital.