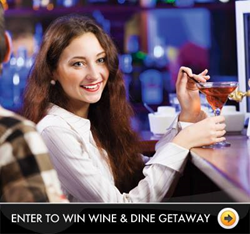 With 300 dining options, numerous chef-driven restaurants and events with a focus on food, Alpharetta is becoming the foodie destination of the Southeast
Alpharetta, Georgia (PRWEB) September 23, 2014
Alpharetta, Georgia is filled with limitless dining options, exciting food events and authentic culinary experiences. The Alpharetta Convention and Visitors Bureau is excited to showcase those experiences with its Wine and Dine Getaway Giveaway for 2. The giveaway includes a weekend itinerary packed with culinary experiences and a two night stay at the Hyatt Place Windward Parkway. Enter at http://www.awesomealpharetta.com.
"With 300 dining options, numerous chef-driven restaurants and events with a focus on food, Alpharetta is becoming the foodie destination of the Southeast," said Janet Rodgers, president and CEO of the Alpharetta Convention and Visitors Bureau. "We are excited to feature our city's dining with this awesome giveaway and look forward to having visitors from around the region visit Alpharetta to try something new and delicious!"
The full foodie itinerary includes:
FRIDAY
Cocktails at MADE Kitchen and Cocktails- With numerous culinary experiences ranging from tapas to grilled fish and meats. Of course, the setting is ideal for a night on the town.
Dinner at Smokejack's BBQ- From slow smoked, hand-pulled pork to moist tender ribs to their signature beef burnt ends, they have something for all BBQ lovers.
Dessert at Alpine Bakery- Imagine huge layer cakes, pies and cheesecakes made with real cream! Enjoy unique and traditional pastries and over 20 different types of cookies with real butter.
SATURDAY
Breakfast: box of donuts from DaVinci's Donuts- The "cake-style" donut is unlike any other: extremely light and tender with a slightly crunchy exterior. Choose from a variety of popular flavors like cookies and cream and salted caramel. Or take a walk on the wild side with vanilla fruity pebbles. You can also create your own donut at the donut bar!
Cooking class at Sur La Table- Learn. Laugh. Eat. Where fun is always on the menu.
Wine Tasting at CRÚ Food and Wine Bar- Demystify the world of wine with their stunning assortment of wines available by the glass or by the bottle in an elegant, casually hip environment.
Dinner at Oak Steakhouse- Recently voted one of the best steakhouses in America by Travel + Leisure, dine on world-class American cuisine in an elegant setting that captures the essence of fine dining experience.
SUNDAY
Brunch at Tin Roof Kitchen
House-made 100 percent gluten free with a focus on fresh, seasonal and local food.
The contest runs from September 1- October 31, 2014. Must be 21 or order to enter. For official rules visit http://www.awesomealpharetta.com.
Alpharetta Convention and Visitors Bureau
The Alpharetta Convention and Visitors Bureau serves as the official destination marketing organization for the city of Alpharetta, promoting tourism and attracting visitors to all 23 of Alpharetta's upscale and modern hotels. Visit awesomealpharetta.com for more information.