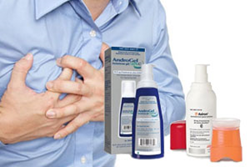 To learn about filing a testosterone lawsuit contact the Oliver Law Group P.C. for your free testosterone lawsuit case review by calling toll free 800-939-7878 today or visit www.legalactionnow.com
Detroit MI (PRWEB) October 06, 2014
As testosterone lawsuit litigation moves into the discovery phase in the U.S. District Court, Northern District of Illinois, the Oliver Law Group P.C. reports that the number of testosterone lawsuit filings have increased 13 percent in the past month. The testosterone complaints have been filed on behalf of men and their survivors who allege that they have suffered heart attacks, blood clots, strokes and deaths as a result of using one or more testosterone replacement therapy products, such as AndroGel, Androderm and Axiron. The federal district court's master list shows that testosterone complaints rose from 177 as of August 15th, 2014, to 201 as of September 15, 2014. Court documents indicate that the low testosterone complaints all have common allegations and a panel of federal judges in June consolidated the testosterone lawsuits in the Northern Illinois federal court and placed under the supervision of U.S. District Judge Matthew F. Kennelly. (In re: Testosterone Replacement Therapy Product Liability Litigation – MDL No. 2545). The Oliver Law Group P.C. notes that the centralization of the complaints for pretrial proceedings with help the litigation progress more efficiently by avoiding duplicative discovery and inconsistent court rulings.
[jpml.uscourts.gov/sites/jpml/files/Pending_MDL_Dockets_By_District-September-15-2014.pdf, September 15, 2014]
The request by plaintiffs in the testosterone complaints to consolidate all federally filed testosterone lawsuits was made after the U.S. Food & Drug Administration (FDA) announced that it was investigating the safety and effectiveness of testosterone products. FDA-approved testosterone products are used to treat hypogonadism, which is low testosterone levels in men due to an underlying medical condition. In January, the FDA said it was reassessing testosterone medication after reviewing two studies that linked life-threatening cardiovascular risks to testosterone use. The first study the FDA reviewed was published in the November 2013 Journal of the American Medical Association. This study found that older men who had underlying cardiovascular disease and took low testosterone treatment had a 30 percent increased risk of having a stroke, heart attack or death compared to men who did not take the low testosterone medication. The second study the FDA reviewed was published in the PLOS One Journal on January 29, 2014, found that men over 65 and younger men with a pre-existing heart disease who were prescribed testosterone drugs were at a greater risk of having a heart attack within the first 90 days after taking the medication for the first time.
[fda.gov/Drugs/DrugSafety/ucm383904.htm, January 31, 2014]
[plosone.org/article/info%3Adoi%2F10.1371%2Fjournal.pone.0085805, January 29, 2014]
[jama.jamanetwork.com/article.aspx?articleid=1764051, November 6, 2013]
As part of its investigation, the FDA scheduled a two-day meeting of its Bone, Reproductive and Urologic Drugs Advisory Committee and the Drug Safety and Risk Management Advisory Committee to discuss two controversial issues surrounding testosterone use. According to background information provided online by the FDA prior to its meetings on September 17-18 in Hyattsville, Maryland, the FDA wants its advisory panels to identify the appropriate patient population to take testosterone replacement therapy and discuss the potential cardiovascular risks associated with low testosterone products, including heart attacks, strokes, blood clots and death.
[fda.gov/downloads/AdvisoryCommittees/CommitteesMeetingMaterials/Drugs/ReproductiveHealthDrugsAdvisoryCommittee/UCM412536.pdf, August 22, 2014]
In addition to the FDA, Health Canada announced its concerns over testosterone replacement drugs. In July, the Canadian government's health department instructed manufacturers of testosterone products including Andriol, Androderm, AndroGel, Axiron, Delatestryl, Depo-Testosterone, Testim and their equivalent generics to update their drug labels to reflect the risk of heart attack, stroke, blood clots in the lungs or legs, and increased or irregular heart rate with the use of testosterone products. Health Canada also issued a safety alert to patients and healthcare providers on the potential for testosterone replacement therapy to cause life-threatening heart and blood vessel problems.
[ healthycanadians.gc.ca/recall-alert-rappel-avis/hc-sc/2014/40587a-eng.php, July 15, 2014 ]
Court documents indicate that an AndroGel and Axiron side-effects complaint was recently filed in the U.S. District Court, Northern District of Illinois on behalf of a Colorado man who alleges that use of the low testosterone medication caused him to have a myocardial infarction (Case: 1:14-cv-06795) The lawsuit states that the Colorado resident's doctor prescribed Axiron in March 2013. In April 2013, the Colorado resident's urologist changed medication and prescribed AndroGel. According to the testosterone lawsuit, the Colorado man was hospitalized from June 15, 2013 to June 17, 2013 and was diagnosed with a myocardial infarction (heart attack).
The testosterone lawsuit complaint purports that the defendants, AbbVie Inc., and Abbott Laboratories, which manufactures and markets AndroGel; and Eli Lilly and Company, which manufactures and markets Axiron failed to adequately warn consumers and their health care providers about the cardiovascular risks of using their respective testosterone products. The AndroGel and Axiron testosterone complaint contends that had the Colorado resident and his doctors knew about the true risks associated with testosterone medication use, he would not have taken AndroGel and Axiron, and would have been adequately monitored for the side-effects of the testosterone products.
Free Low Testosterone Lawsuit Reviews
The Oliver Law Group P.C. is offering free low testosterone lawsuit reviews to men who allegedly suffered heart attacks, strokes or other cardiovascular events due to testosterone replacement drugs. Free legal evaluations are also being offered to families of men who allegedly died as result of a testosterone-related heart event. To learn more about filing a testosterone therapy lawsuit, please contact our office by calling 800-939-7878 today.
About The Oliver Law Group P.C.
Oliver Law Group P.C. is a different kind of law firm. One that focuses on the needs of the injured first. A compassionate law firm dedicated to fighting for the rights of victims and their families, and doing everything necessary to ensure those rights.
The experience of a large firm. The 1-on-1 dedication of a small firm. A reputation built on trust.
Experience. Dedication. Trust. Oliver Law Group P.C.
If you would like to learn more about filing a testosterone lawsuit, turn to the law firm with the Experience, Dedication, and Trust you deserve. Contact the Oliver Law Group P.C. for your free case review by calling toll free 800-939-7878 today or visit http://www.legalactionnow.com