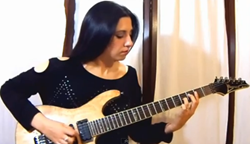 (PRWEB) September 22, 2014
A "riff" is the catchy part of a song that sticks in your head. One of the most recognizable guitar riffs of all time is "Smoke on the Water" by Deep Purple.
In this rhythm guitar lesson, now available on YouTube.com, Alejandra Mesliuk teaches how to play the riff from guitarist Ritchie Sambora's band Bon Jovi's "You Give Love a Bad Name". Alejandra starts off this lesson by performing the riff at tempo with a backing track. Next Alejandra slows the riff down so you can see exactly how it's played. The Riff starts off with a lick consisting of a lot of bending and then segues into a palm muted riff that has a shuffle groove composed primarily of 1/8th notes with some heavy palm muting and pinch harmonics. Guitar TAB's are available for this lead guitar lesson at GuitarControl.com.
Bon Jovi is an American rock band formed in Sayreville New Jersey in 1983. The band has kept the same lineup for most of their career and has gone and brief hiatuses at different points due to extensive touring. Over the course of their career they have released 12 studio albums and 3 live albums and have sold over 100 million albums world wide.
Alejandra Mesliuk
Alejandra Mesliuk is from Buenos Aires Argentina. She studied jazz guitar harmony and under the method in Temperley Berklee School of Music by Ariel Ferreyrola. She has been an area teacher and clinician for the last 10 years in electric guitar, classical, and musical language. She is currently working on a solo album.
About GuitarControl.com
GuitarControl.com is the leader in modern guitar instruction. It's packed with recourses including articles, video lessons, and the best videos in the business for the beginner to the advanced guitar student taught by the best instructors out there. Weather you are into the blues, rock, jazz, metal, folk, or anything in between, they have you covered.