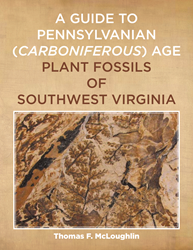 KNOXVILLE, Tenn. (PRWEB) September 24, 2014
When is rock collecting "cool?" When a new plant species is discovered in the process.
Geologist Thomas F. McLoughlin offers a picture guide for all fossil enthusiasts with his new book "A Guide to Pennsylvanian (Carboniferous) Age Plant Fossils of Southwest Virginia." This easy-to-follow guide documents more than 300 illustrations of fossil plants found within coal measures in this region.
Sorted by groups and geographic location, the fossils in McLoughlin's new guide reveal important information about our planet's deep history. Many of the fossils within are included in the Natural Museum of Natural History in Virginia and some are on display at the Library of Richmond, Virginia.
While he identifies his book project as a labor of love, McLoughlin spent countless hours researching, collecting rock samples and identifying specimen. He split hundreds of rocks only to find very few fossils.
McLoughlin originally wrote this guide to dispel myths that coal miners were finding fish and snake fossils in the mines of southwest Virginia, but he hopes experts and amateurs alike will take personal interest in his findings.
"A Guide to Pennsylvanian (Carboniferous) Age Plant Fossils of Southwest Virginia"
By: Thomas F. McLoughlin
ISBN: 978-1-4907-1192-8
Available at Amazon and Barnes & Noble
About the author
Thomas McLoughlin earned a Bachelor of Science degree from Morehead State University and a master's degree in geology from Eastern Kentucky University. He was part of the US Department of Labor Mine Safety and Health Administration (MSHA) for 28 years and taught introduction to geology courses at colleges in Cumberland, Ky., and Wise, Va., for 26 years. McLoughlin is currently a consultant in coal mining and a Coal Miner Trainer. He and his wife reside in Norton, Va.