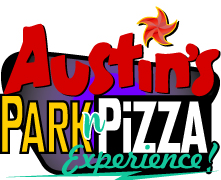 We call ourselves 'the more place' because we believe we offer an exceptional entertainment destination for our guests – more fun, superior value, more options.
Austin, TX (PRWEB) September 23, 2014
It was April, 2012. As Michael Goss surveyed the sprawling expanse of Austin's Park & Pizza Experience after taking the reins as operations director of the pizza-and-games purveyor's north Austin facility, he knew it was time for a few changes.
"Since first opening in 2003, Austin's had attracted a sizeable following," says Goss, a veteran family entertainment industry executive. "Thousands of Austin families had made wonderful memories here over the years."
But the high customer traffic had taken a toll. "In general, it was time for a facelift and a shot of new energy," says Goss. "The interior was showing lots of wear and tear, the games were lackluster or dated. It was easy to see that Austin's success could slip away if we didn't take action."
Working in partnership with the venue's then-owners, Goss led the implementation of nearly $1 million in improvements — such as the installation of the latest and greatest arcade games and construction of half a dozen new rides and attractions - including a roller coaster, as well as two of the venue's signature offerings: the high-performance "slick track" go-karts, and a safari-themed go-kart track for younger guests. He also introduced new birthday party options, such as tie-dye and glow-in-the-dark parties — and later next month, Austin's will roll out a major upgrade for "Laser Adventure", an indoor laser tag experience that's a favorite for birthday party revelers and walk-in visitors.
In response to customer feedback that the food offerings needed a makeover, Goss oversaw the rollout of a new food and beverage menu that features improved pizza choices (guests can design their own, using top quality ingredients) and expanded menu items.
"We hosted a 'Top Chef'-styled competition," explains Goss, "and got our guests and some local bloggers involved in the selection of some of the new menu items, even our pizza crust. And they had a blast. It was definitely one of the highlights of the park's ongoing renovation."
Austin's Park & Pizza today
In the two years since Goss's arrival, attendance has increased more than 20%, staff positions have grown substantially, and the park is home to more than 3,000 birthdays and special events each year —including the annual "St. Jude Give thanks. Walk" fundraiser held every fall.
The park also caught the attention of the IAAPA (International Association of Amusement Parks and Attractions, the industry's largest trade association), which honored Austin's with the "Best Family Entertainment Center in the World" award in November 2013.
Goss has more big plans for the park's future – and now, his passion for continued growth has become personal. That's because in late August, he became a founding member of Austin's FEC management, LLC, which acquired the business that same month. The purchase signifies a new era in the park's history, since it's the first time the facility has been owned and managed locally.
"The ownership change is significant because Austin is a community that takes a lot of pride in the abundance of unique, locally-owned businesses," says Goss, who will remain the park's onsite operator in addition to his new duties as president and owner. "And I in turn take a lot of pride in leading our team to deliver the most superior and affordable family entertainment experience in the Central Texas market. I think it means a lot to our customers to know that the operator of the park is also one of the owners – that I'm on the premises all the time, hands on with daily operations, and constantly looking to enhance their experience.
"We call ourselves 'the more place' because we believe we offer an exceptional entertainment destination for our guests – more fun, superior value, more options," he continues. "We plan to continue that theme moving forward, by installing more rides and attractions, continuing to evolve our menu, adding more jobs, training future team members, and building new partnerships with the business and non-profit communities.
"Austin's Park & Pizza Experience has plenty of land on which to expand, ambitious ideas, and a creative vision," he adds. "I see nothing but continued growth – and tons of fun - for the park's future."
Austin's Park & Pizza Experience Fast Facts:

21 acre/50,000 square foot entertainment complex
100 + full-time/seasonal staff members
3,000 birthday parties/special events celebrated on site each year.
Attractions include a menu of pizza and salads, themed dining areas, an arcade game room, a laser tag arena, a climbing rock wall, batting cages, go-karts, bumper boats, miniature golf, roller coasters and other rides; as well as corporate and special event spaces.
Austin's Park on Facebook