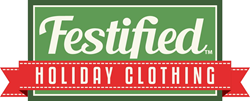 We are committed to maintaining excellent customer service...
Ashburn, VA (PRWEB) September 22, 2014
Founded by John Kaplar in 2009, Festified is the leader in brand-new holiday sweaters and accessories for men, women, children, dogs, and cats! The new name is reflective of the company's commitment to serving the tacky sweater market, as they expand their product line to include NFL sweaters; sweggings — yes, sweater leggings! — sweater pants, or swants; movie-themed sweaters; and sweaters for the big and tall crowd.
"The decision to become Festified makes a clear statement about who we are, and where we want to take our business," said Kaplar. "We are committed to maintaining excellent customer service alongside a high quality and enjoyable shopping experience."
A festive color scheme and a bright, graphic logo welcome visitors to the brand new Festified website. Features include an easy-to-navigate menu that makes browsing simple and fun; a live chat feature that ensures customers find exactly the festive sweater they seek; and a blog designed to keep Festifans up-to-speed on the latest news and product announcements. Festified's Christmas sweater store is overflowing with the highest-quality, tackiest, ugliest, most obnoxious and festive Christmas sweaters in the world.
For more information about Festified, the online retailer formerly known as Skedouche, or to order a festive sweater, visit http://www.festified.com today.
About Festified
Festified, formerly named 'Skedouche', was founded by John Kaplar in 2009 after many disappointing Christmases where, since all the major retailers failed to carry "festive" sweaters for men, he was forced to wear ill-fitting ladies sweaters. John designed the first tacky sweater collection that summer and built the company from the ground up. The website opened in November 2009 with an overwhelming response from customers and the media. Since then, Festified has grown considerably, and sell thousands of products every year. The retailer is committed to providing excellent customer service, as well as a high quality and enjoyable shopping experience. Festified has been featured on Late Night with Jimmy Fallon, The Tonight Show, The View, The Chew, and Community.