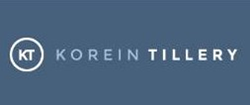 I am very proud of every member of the firm and know that all of us here strive to be the best that we can be.
St. Louis, MO and Chicago, IL (PRWEB) September 24, 2014
Korein Tillery has been selected by The National Law Journal to their list of America's Elite Trial Lawyers. The list identifies elite plaintiffs' firms that engage in complex litigation and have received substantial results for their clients. This is the inaugural year for the Elite List award, and the honorees will be recognized at a national event in November.
"I am very pleased that Korein Tillery has been selected as one of the top 50 plaintiffs' law firms in the nation. I am very proud of every member of the firm and know that all of us here strive to be the best that we can be – but it is just wonderful when you are actually recognized for having done so. I am truly honored to be part of it," said Senior Partner Stephen M. Tillery.
Korein Tillery has successfully represented many clients through protracted, complex litigation against the most powerful adversaries in the world. For example, a team of Korein Tillery's attorneys recently recovered over $100 million from agri-business giant Syngenta to remediate contaminated water supplies for community water providers across the country. (City of Greenville v. Syngenta Crop Protection, Inc., Case No.: 3:10-cv-00188-JPG-PMF) Over the last few years, Korein Tillery has helped negotiate $335 million in mortgage-backed securities from some of Wall Street's largest banks.
About Korein Tillery
Korein Tillery is a an AV-rated, award-winning law firm with offices in St. Louis and Chicago that has recovered billions of dollars in verdicts and settlements in a variety of cases across the country involving pension funds, insurance, securities, antitrust, telecommunications, pharmaceuticals, environmental contamination, tobacco, computer technology, and consumer fraud. The firm has gained a national reputation for aggressively and successfully pursuing a wide variety of complex cases on behalf of its clients. Korein Tillery was named by the National Law Journal to its "Plaintiffs' Hot List" in 2003, 2004, 2007, 2008, 2011, 2012, and 2013 as one of the nation's top plaintiffs' law firms in all specialties. More information is available at http://www.koreintillery.com.