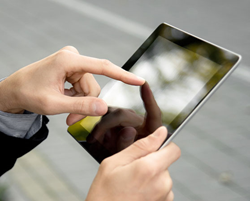 As a graphic designer, I use the services of IFM. Len's response is always fast and he makes me look good to my clients.
Markham Ontario (PRWEB) September 23, 2014
When it comes to the company website, how old is too old? This question is a common one asked by site owners over the years. To determine when it's time to redesign the website, there are several factors that should be analyzed first.
In Front Media, a web design company in Markham Ontario has been designing and redesigning business websites for nearly 15 years and their Creative Director, Len Doren, offers this, "When we meet with both new and existing clients who are pondering whether they need to redesign their company website, we first discuss some basic pointers to help determine the best plan of action."
For many businesses, the initial reason for considering a website redesign usually revolves around an older website that has served its purpose and by design and functionality standards, is behind-the-times.
Len goes on to add, "The most common response we get from a new client is usually the fact that the original website design is "old", which in most cases means the site was developed more than 5 years earlier. And when I hear that, I usually advise that there may be very little that can be salvaged from the old site. In most cases when that much time has passed, not only will there have been significant advances made in web technology, there are usually many changes within the business itself."
Here are some important pointers to ponder when considering a redesign of the company website.
1) The website is old and the design does little to promote the business in today's current market.
If the website was created between 2-4 years ago, a good face-lift could be an option. If the site is 5 years old or more – it's time for a complete overhaul.
2) The website is not compatible with smart phone screens.
Sites that do not have responsive website design attributes to allow the site to render on all types of internet devices can miss out on sales opportunities from people on-the-go.
3) The competition is revamping their sites.
This is as good a reason as any to redesign the company website. Keeping up with the times is one thing, but keeping up with the competition is imperative!
4) New functionality is needed on the site.
Developing new apps or functions for a website can be time-consuming and expensive. However, using WordPress plugins on a newly developed responsive WordPress website is a great idea because most plugins are free or can be had for a nominal cost - and, they could save the company hundreds or even thousands of dollars.
5) A way to update the site content in-house is desired.
Redesigning a site with a Content Management System allows just about anyone with even little experience, to update many parts of the company website. WordPress offers this feature which has been part of its framework for years.
IFM Web Services offers Responsive Web Design, website analysis, SEO Press releases, Search Optimization and Facebook pages for businesses. Located in the Toronto area (GTA), IFM has helped business achieve an effective online presence and has helped clients as far away as Bermuda and Mexico. For more on Social Media, SEO or Web Design for businesses, visit IFM at http://www.ifm.ca.