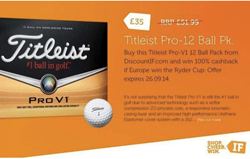 "Buy a Chelsea shirt, and IF they win you get 100% Cashback"
London, UK (PRWEB UK) 23 September 2014
A new start-up, built and backed by ex-Betfair staff, has launched the first website devoted to bringing the thrill of a bet to online discount shopping. Dedicated "b-commerce" website http://www.discountif.com presents customers with a selection of daily offers linked to current sporting and entertainment events, such as:

"Buy a Man Utd shirt and IF Di Maria scores this weekend, you get 100% Money Back"
"Buy a dozen golf balls and IF Europe win the Ryder Cup, get 100% Money Back"
"Buy FIFA 15 and IF Arsenal and Chelsea win their next Champions"
DiscountIF is the first business devoted to such promotional offers.
Developed by a team who previously worked together at Betfair, http://www.discountif.com enjoys access to a wide range of products, ranging from football shirts, golf accessories, iPads and iPhones, to TVs, cameras and electric toothbrushes. DiscountIF is agreeing a growing network of relationships to increase its products and daily offers.
Each product featured on the site is linked to the outcome of an event, including golf, football and tennis, as well as special events such as Strictly Come Dancing and X-Factor. With over 30 years experience in the betting industry, the DiscountIF team is split between London and Malta, with seed investors in the business including Steve Ives, formerly Chief Product Officer and early-stage staff member of Betfair, and the TAKEOFF Seed Fund from Malta.
Lewis Holland, CEO at DiscountIF launched the business in the summer of 2014: "We are creating an alternative shopping experience where people have an extra incentive to buy something linked to a sport, team, or celebrity that they follow. "B-Commerce" brings the thrill of a bet to the excitement of a new purchase - but ultimately we're about finding value and creating fun cash back offers and giveaways for those looking for a bargain."
About DiscountIF
Innovative Discounts Ltd. was formed in April 2013 to launch an online discounts platform, DiscountIF, to disrupt the £100bn+ online retail market. DiscountIF will combine the thrill of winning a bet with the value of a discounts site. DiscountIF offer a unique buying promise, whereby for every purchase on our platform, customers will have the opportunity to get a full refund if a specified event occurs. The DiscountIF platform will have a wide range of products and services on offer, with Europe's largest distributors of consumer products already integrated.
DiscountIF has a UK Gaming License issued by the Gambling Commission.
More information
For more information on DiscountIF, please contact Alex Gowar at contact(at)hatch-house.com