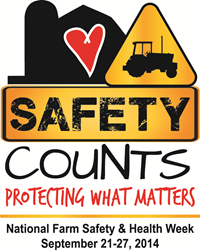 Kids are pretty persuasive. Safety still comes first. ~ Vicky Hartgers, Farm Claims Manager
(PRWEB) September 22, 2014
Farmers work long, hard hours during harvest season. Grinnell Mutual asks farmers to make safety count during National Farm Safety and Health Week and protect what matters.
"Everyone thinks it doesn't happen to them and it won't happen to them. It only takes one time," said Vicky Hartgers, farm claims manager at Grinnell Mutual. "Accidents happen, no matter how careful you try to be."
Whether you are a farmer, farm worker, or someone living or working near farming operations, you can make this harvest season safer by following these five farm safety tips.
1. Share rural roads.
According to data from the National Highway Traffic and Safety Administration, more than 40 percent of all rural traffic fatalities occurred on rural roads with speed limits of 55 mph or higher. Grinnell Mutual reminds you to show courtesy to all the vehicles sharing the road with you.
"Farmers are working an increasing number of acres," said Lynn Mawe, director of farm casualty underwriting at Grinnell Mutual. "The equipment isn't just crossing the road to get to a field, it may be on that road for a couple of miles to get to that field."
2. Take a break.
The long days and late nights of harvest can lead farmers to push their limits to get crops out of fields, but research from the Centers for Disease Control and Prevention reveals that breaks can help increase concentration and alertness while reducing the risk for farm accidents.
"Get out of the tractor, get out of the combine," said Hartgers. "Take five minutes to eat a hamburger on the tailgate of the pickup with your kids. It will recharge your batteries and help you think clearly again."
3. Have a safe play area for children.
"Agriculture is the only industry where the worksite can be mere feet from the home," said Shari Burgus, education director at Farm Safety For Just Kids. "Go over a few safety basics with children. Don't wait for them to ask—set boundaries and limitations up front."
One practical way for farm families to protect children on their farms is to designate a safe play area. Farm Safety For Just Kids recommends fencing off a play area or walking off an imaginary boundary with the children on the farm.
4. Stay out of grain storage bins.
"Entering a grain storage bin without appropriate personal protection and without an outside attendant is an extremely hazardous action to take," said Larry Gallagher, director of Corporate Loss Control at Grinnell Mutual. "Entry into a bin should be a last resort action."
Since 1970, roughly half of the 1,059 documented grain entrapments have resulted in death. Nearly two-thirds of those entrapments occurred in the 10 states that make up the Corn Belt, according to Purdue University.
"Make every effort to eliminate grain bridging before you enter a grain bin," said Gallagher.
5. For farm equipment, it's one driver. No riders.
Grinnell Mutual recommends saying 'no thanks' to family, friends, and children who want to ride along. Place 'NO RIDERS' decals on farm equipment and plan ahead for farm workers and children, arranging transportation and childcare during harvest.
"Kids are pretty persuasive," said Hartgers. "Safety still comes first."