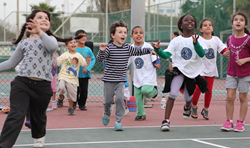 New York, NY (PRWEB) September 23, 2014
On the eve of the Jewish New Year 5775, the Israel Tennis Centers Foundation announced the launch of a special fund to aid Israeli families adversely impacted by the recent crisis in Gaza. The conflict has left many parents in a perilous economic situation as greater shares of their household budgets have been diverted to pay for the war effort and other essential services. In response, the ITC has established the Shana Tova Scholarship Fund to enable as many children as possible to remain connected with the ITC and continue to benefit from its many social impact programs.
Through these programs, a wide range of children are served, including youth at risk, immigrants and children with special needs, from autism and ADHD to Down Syndrome as well as those with developmental and physical disabilities. Tennis also has the unparalleled ability to bring together children from different religions in coexistence programs, promoting understanding, cooperation and friendship on and off the court.
"The fact is that the conflict of the past three months has only served to underscore the vital need that our children have for what the Israel Tennis Centers provides…a safe, nurturing place where they can go after school to have fun, play tennis and learn vital life skills," said Jacqueline Glodstein, ITC Vice President/Global Development. "Unfortunately, more children than ever are confronting a very uncertain future, fueled by the threat of war from Gaza."
It means that ITC donors and others are being asked to dig even deeper into their hearts, minds and pockets to find a way to help as many Israeli children as possible. They did it recently for "Operation Safe Haven", during which hundreds of ITC children living near the ITC's southern-most centers were transported to locations in the central and northern parts of Israel.
"We did it because, for almost 40 years, the ITC has been that beacon of help and inspiration for over 400,000 Israeli children and their families," said Benjamin Beiler, ITC Foundation President. "And until the threat from the current conflict is totally gone, we must preserve what we started in 1976 at a single center in Ramat Hasharon and protect without interruption the programs we offer today's children at all 14 centers."
The goal of the Shana Tova Scholarship Fund is to raise $250,000 to assist 250 more children…children whose families can no longer afford to pay for the vital services that the ITC provides…and which they so desperately need right now. Contributions at any level are welcome by clicking on the link below:
http://israeltenniscenters.org/donate/shana-tova-scholarship-fund/
For more information, visit the ITC website at http://www.israeltenniscenters.org.
About the Israel Tennis Centers Foundation:
The Israel Tennis Centers Foundation (ITC) is a 501 (c) 3 not-for-profit organization that has worked since 1976 to help Israeli youth develop life skills through the medium of sport. The ITC serves over 20,000 children annually, many of them from disadvantaged neighborhoods or outlying development towns throughout Israel. The ITC's 14 centers stretch from Kiryat Shmona on the Lebanese border in the North to Beer Sheva bordering the Negev Desert in the South. http://www.israeltenniscenters.org.
Contacts:
Jacqueline S. Glodstein
Vice President, Global Development
646-884-7450
jglodstein(at)israeltenniscenters(dot)org
Richard Weber
Global Director of Marketing
646-884-7410
rweber(at)israeltenniscenters(dot)org