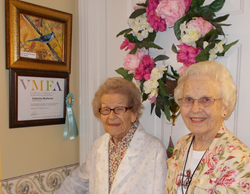 I'm amazed at the artisitc abilitye the residents show
Suffolk, VA (PRWEB) September 25, 2014
The featured art work in a recent show at Lake Prince Woods retirement community were done by residents in Assisted Living. Many had never painted prior to attended art classes with instructor Lyn Snyder, herself a Lake Prince Woods resident.
The majority of artists are in their 80s and 90s and they have enthusiastically embraced their new-found talent.
"They amaze me with what they can do," according to Snyder, "and they're eager to try new techniques." She has noticed an increase in self-confidence among the residents, some of whom had always thought they had no talent when it came to art.
Each resident chooses a subject for their painting, usually a photograph or scene from a magazine. Frequently the residents are doing a piece to give to a specific family member. Just as in past generations relatives might have made a quilt for each grandchild, these residents are producing paintings to pass to future generations.
Three years ago, when she was 96 years old, Kitty Buchanan moved to Lake Prince Woods and began attending painting classes and loved it. She had never painted before and soon found that her favorite subjects to paint are birds or animals. Last year one of her paintings received an award in a state-wide art competition for seniors in retirement communities.
The art class is funded by the United Church Homes and Services (UCHS) Foundation which supports work of United Church Homes and Services (UCHS). Donations to the Campus Enrichment fund underwrite the art class.
Lyn Snyder continues her own art career. Each Wednesday afternoon she joins other residential living residents for an open painting time and teaches a china painting class every Thursday. Living at Lake Prince Woods has freed her from home maintenance chores and allowed her to spend more time doing what she loves -- painting.