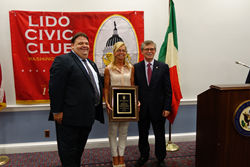 Hon. Fucsia Nissoli said she will do her "best to represent the values that unite us."
Washington, DC (PRWEB) September 23, 2014
The Lido Civic Club of Washington D.C. held its annual Congressional Night at the U.S. Capitol on September 18, 2014. More than 80 members and guests enjoyed a program led by an invocation from Fr. Ezio Marchetto, Pastor of Holy Rosary Catholic Church.
Keynote remarks were delivered by Congressman William "Bill" Pascrell Jr., (D-NJ), a member of the House Ways and Means and Budget Committees, and co-chair of the Italian American Congressional Delegation. Congressman Pascrell praised Lido Club members for their commitment to the Lido college scholarship program and for their support of programs for veterans.
Congresswoman Rosa DeLauro (D-CT) followed with remarks. Rep. DeLauro is the ranking member on the Labor, Health, Human Services, and Education Appropriations Subcommittee, where she oversees our country's investments in education, health, and employment. She related stories of her two immigrant parents arriving in America and the positive effect of organizations like the Lido Civic Club on the assimilation of Italian Americans.
President Francesco Isgro, Esq. presented the Lido Civic Club Italian American Friendship Award to Hon. Fucsia Nissoli Fitzgerald in recognition of her contributions to the Italian-American community as an elected member of the Italian Chamber of Deputies, representing Italians living in North and Central America. Hon. Nissoli Fitzgerald thanked the Lido Club for the honor and promised "to do my best to represent the values that unite us."
President Isgro thanked Orion Management Systems, Galaxy Control Systems and TapSEC Consulting for sponsoring Congressional Night. He also thanked the event committee, which included John Pirri, Robert Giraldi, Jack Derrico, and committee chairman Thomas A. Stallone Sr.