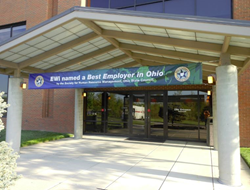 EWI is excited to once again open our doors to show our community the opportunities in manufacturing and the innovative work we do right here in Columbus.
Columbus, OH (PRWEB) September 22, 2014
EWI, the manufacturing technology innovator, is holding a community Open House on October 3, 2014, in collaboration with the College of Engineering at The Ohio State University. The event is being held in conjunction with Manufacturing Day 2014, a national day designed to educate the public about US manufacturing and its vital role in today's economy.
Attendees will have a first-hand opportunity to learn about EWI's latest innovations for manufacturing, see demonstrations of cutting-edge technology, and tour the company's state-of-the-art labs and workshops with EWI's engineering and technical Associates. Last year, EWI welcomed more than 50 guests from the community including students, parents, neighbors, business people, manufacturers, and state government representatives who took part in tours, presentations and hands-on welding experiences to learn about the future of manufacturing.
"Many companies tell us that EWI has been instrumental in helping them develop new technologies that will enhance their competitiveness," says Henry Cialone, President and CEO. "Last year's Open House was a big success, and we are excited to once again open our doors to show our community the opportunities in manufacturing and the innovative work we do right here in Columbus."
Two 90-minute Open House sessions are scheduled on Friday on October 3rd at 10:00am and 2:00pm at EWI headquarters, located on Ohio State's west campus. Advanced registration is required to attend. Space will be limited in each session, so guests are encouraged to register early. Guests may sign up by calling 614.699.5000 or visiting http://www.regonline.com/MfgOct2014.
About EWI
EWI is the leading engineering and technology organization in North America dedicated to advanced materials joining and allied manufacturing technologies. Since 1984, EWI has provided engineering support, R&D, strategic services, and training to leaders in the aerospace, automotive, consumer products, electronics, medical, energy & chemical, government, and heavy manufacturing industries. By matching our expertise in materials joining, forming, and testing to the needs of forward-thinking manufacturers, we are successful in creating effective solutions in product design and production. To learn more, visit http://www.ewi.org, email info(at)ewi(dot)org, or call 614.688.5000.
About Manufacturing Day 2014
Manufacturing Day, October 3, 2014, is a nation-wide series of events, designed to expand knowledge about and improve public perception of manufacturing careers and manufacturing's value to the U.S. economy. Manufacturing Day is co-produced by the Fabricators & Manufacturers Assocation, International (FMA), the National Association of Manufacturers (NAM), the Manufacturing Extension Partnership (MEP), the Manufacturing Institute, Industrial Strength Marketing and the Science Channel. It is supported by a group of industry sponsors. For more information, visit http://www.mfgday.com.