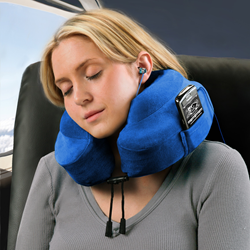 "I look forward to L.C. Industries, Inc. utilizing its extensive experience and relationships with mass retail to assist with Cabeau's distribution," said David Sternlight, CEO of Cabeau.
Elk Grove Village, IL (PRWEB) October 13, 2014
As one of Cabeau's™ newest distributors, L.C. Industries, Inc.™ has already introduced the Evolution Pillow™ to audiences across the country. Featured on USA Today, MSNBC, Fodor's, and The Huffington Post, and winner of the Travel Good Association's "Buzz Award," Cabeau has made a name for itself with its revolutionary travel products.
Constructed of responsive memory foam, the Evolution Pillow consists of raised side supports, adjustable sliding toggles, a washable velour cover, and a media pouch all in one compact travel bag. The Evolution Microbead Pillow™ and Evolution Inflatable Air Pillow™ offer more opportunities for travelers to stay comfortable.
The Midnight Magic Sleep Mask™ features plush fabric, elastic-free straps, an adjustable nose bridge, and earplugs. The eco-friendly Bamboo Compression Socks™ apply graduated pressure and increase blood flow to the lower legs, wick away moisture, and aid in the prevention and relief of varicose and spider veins. The ultra-soft Fluffy Socks™ offer travelers a cozy experience for their feet.
Regarding the partnership, Cabeau CEO David Sternlight said, "I'd known about L.C. Industries, Inc. for years before we began our company. I've always known it as a major player in the travel goods space."
Cabeau's Evolution Pillow, Midnight Magic Sleep Mask, and other products are available nationwide in airports, department stores, and specialty shops.
About L.C. Industries, Inc.
L.C. Industries, Inc. began with the manufacturing of luggage caddies in 1971. Since then, it has expanded to offer over 500 products in categories, such as security, comfort, convenience, and health. L.C. Industries, Inc. owns several internal brands, including Lewis N. Clark® and Belle Hop®. For more information, visit http://www.lcibrands.com.
About Cabeau
After using an uncomfortable neck pillow on a flight from Hong Kong to Los Angeles, David Sternlight knew there must be a better way to travel. He began interviewing over 2,500 travelers, and Cabeau was founded in 2009 with the predecessor of the Evolution Pillow as a core offering. For more information, visit http://www.cabeau.com.