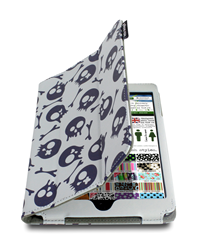 Unique and well designed tablet cases do not need to cost the earth. All Lente Designs cases cost less that £20.
Buckinghamshire (PRWEB UK) 30 September 2014
Maintaining a fresh and stimulating product range is paramount in the eyes of tablet case designers Lente Designs. So, with that in mind they have just launched 'Skull and Bones' - a new British designed cover for the Apple iPad mini & iPad 2/3/4 . Made with premium textiles and build quality, this iPad cover offers advanced protection in a modern and unique style. Lente Designs very popular blue on grey Skull & Bones cover is fun and unique for kids but the colours are subtle enough for the 'big kids' to take to work!
The soft and tough polyurethane (the same material Apple use to make their smart covers) is resilient and easy to wipe down. If you're looking for a cover that's fun, different, and a tiny bit crazy then you have arrived at the right place.
Other amazing designs that particularly fit the Autumn, Winter & Christmas theme are Lente Designs ''Waterflow, Polka Dots & Mini Polka Dot.
Unique and well made cases do not need to cost the earth. With all of Lente Designs cases coming in at under £20 each, they are perfect for the gift market and for any occasion, be it birthdays, back to school, Halloween, Christmas or Mothers/Fathers Day.
All orders come pre-gift wrapped in brightly coloured foil bags and with free UK delivery.
Technical Specifications

Complete all-round protection for the tablet
Auto sleep/wake up function when cover opened and closed
Front cover folds into a stand to allow a 'typing' angle and a 'movie' angle
High friction inner frame for a safer grip
Cut-outs for easy access to all the ports, charging, camera, and speakers
Lente Designs Ltd, Seven Acre Farm Business Centre, Aylesbury Road, Aston Clinton, Buckinghamshire HP22 5AH