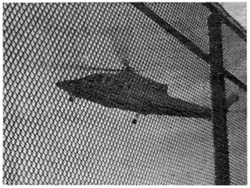 A pictorial language that is both abrasive and inspiring
Düsseldorf, Germany (PRWEB) September 22, 2014
Christiane Baumgartner's elaborate and large woodcuts will be shown at a new exhibit titled "Christiane Baumgartner. White Noise," which opened at Düsseldorf's Museum Kunstpalast on September 19. Her pieces show man-made environments, including motorways and airplanes, and the German forest and are an invitation to reflect upon our familiar perception of time, space, and landscape.
Her works are the result of a painstaking process: she starts by filming her motif, then selects individual images and modifies them on the computer, transfers the image onto a wood board via line grids, and finally cuts the individual lines onto the printing plate. By combining antagonistic media and working methods, she achieves a pictorial language that is both abrasive and inspiring.
Düsseldorf's tourism office is offering hotel and city specials for many of the city's art events throughout 2014, including "Christiane Baumgartner. White Noise." The package, called "Düsseldorf à la Card," can be booked right from the tourism office's website at https://www.duesseldorf-tourismus.de/en/accommodation/hotel-packages/duesseldorf-a-la-card/. Prices start at €49 per night per person based on double-occupancy for a 2-3-star hotel in the city center and at €95 per person for a 4-star hotel. The package includes breakfast, one DüsseldorfCard (free public transportation within city limits plus 30 free or reduced admissions to city attractions), and a city information package. Please check the website for current information.
For more information about the exhibit, please visit http://www.smkp.de.
For more information about the destination Düsseldorf, please visit: http://www.visitduesseldorf.de.
# # #
Düsseldorf Marketing & Tourism GmbH is the visitors and convention bureau of the city of Düsseldorf. Its responsibilities include tourism and city marketing, as well as conference and meeting marketing, hotel reservation services, fairs and convention services, city event ticket sales and advance ticket reservations. For more information, visit http://www.visitduesseldorf.de.
Düsseldorf Airport, Germany's Next Generation HubTM, offers several non-stop flights from US & Canadian cities (Atlanta, Chicago, Ft. Myers, Los Angeles, Miami, New York, Newark, Toronto), as well as convenient connections to many European cities. For more information about the airport, visit http://www.dus.com.