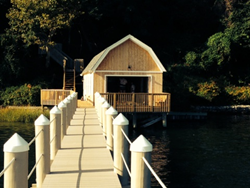 Matawan, NJ (PRWEB) September 22, 2014
The versatile contractor that specializes in luxury remodeling was originally hired by the client for a whole-house renovation. While in the middle of the job, the client asked the building company to also reconstruct the boathouse.
"Because water-front properties require extra attention to detail, the client's request really showed confidence in our crew," said Mike Bruno, owner of Stone Creek Builders.
Bruno's team of dedicated professionals met the complex challenges necessary to bring the client's grandiose vision to life. The family needed something much more than a place to dock the boat and then leave. The family in Rumson NJ desired a comfortable living space near the water with amenities like the main house. A bathroom, running water, cabinets, and a miniature refrigerator were installed, requiring the builder to coordinate its many experts for electrical, plumbing and cabinetry work.
This was all done on top of completely rebuilding the structure. A new deck for the boathouse to sit on was needed. As a contractor that does not cut corners, Stone Creek Builders used treated decking to construct the deck. The builder also handled the framing of the walls and roof. The railings, windows, siding and garage doors were all handled by the builder that has long term relationships with an extensive network of specialists and contractors in the area.
At the completion of the building project, the client's family moved furniture in and now enjoys the water and watching boats with cold drinks within reach.
"This job in Rumson NJ really represents what our company is capable of doing. Almost every type of contractor was needed. The whole property was transformed, complete with a waterside recreational living area that really made the family happy," Bruno said.
About the company
Located in Matawan NJ, Stone Creek Builders is a remodeling and restoration contractor known for its integrity and craftsmanship. It excels in customer relationships and prides itself on a company culture dedicated to helping clients meet their goals. Possessing a special skill set for kitchen and bathroom remodels, the company works with residential and commercial clients. The company can be contacted through its website http://www.stonecreekbldrs.com or by calling 732-566-0395.