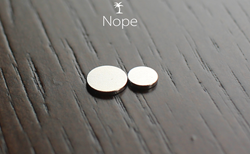 Chicago, IL (PRWEB) September 22, 2014
With all the talk these days about cancelled projects, it is very reassuring to find a Kickstarter success story. The crowdfunding website recently updated their terms of service, taking a big step toward increasing accountability. Despite the rise in unfinished business, there are still a lot of great projects gaining momentum.
Bungajungle is apparently one organization that knows the formula for success. They are currently running their sixth Kickstarter campaign, raising money for the creation of a magnetic camera shield called Nope. The minimal design of the Nope has made it very popular with the Kickstarter croud. According to Ananda Svarupa Das, the inventor of the Nope and the founder of Bungajungle, the product came about due to news that highlighted the ease with which hackers can access a laptop's built-in camera.
The response to Nope has been immediate and profound, gaining the support of over 750 backers and raising over eight thousand dollars in the first three days. During past projects, including the popular magnetic mounts Neutron S and Neutron A, Bungajungle has raised nearly two hundred thousand dollars and a steadily growing list of satisfied backers. When asked what makes his campaigns so successful, Svarupa Das says "People have to see you do what you say you will do. They really appreciate the communication and updates. Kickstarters like to be a part of the journey."
The philosophy may be a simple one, but follow through is something that many start ups lack. As any investor can tell you, there is always a risk. Finding a company you can put your confidence in depends a lot on past performance, which takes time to establish. With the new regulations, Kickstarter will hopefully discourage the less responsible project creators.