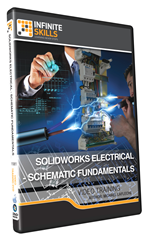 Learn SolidWorks Electrical - Schematic Fundamentals at your own speed
(PRWEB) September 22, 2014
Software training firm Infinite Skills Inc. this week introduced its "SolidWorks Electrical - Schematic Fundamentals Tutorial," an introductory course for electricians and electrical engineers teaching the basic features and tools for designing electrical schematics, single-line diagrams, and generating reports.
SolidWorks Electrical is a purpose-built, stand-alone software used to create electrical diagrams, automatic reports, and panel layout drawings. SolidWorks Electrical can also be integrated with the 3D capabilities of the SolidWorks Electrical 3D add-in to the standard SolidWorks platform for real-time collaboration.
Infinite Skills' "SolidWorks Electrical - Schematic Fundamentals Tutorial" covers the essential tools and techniques for using SolidWorks Electrical, covering cables design and referencing, electrical symbols, libraries and macros, and much more.
SolidWorks Electrical - Schematic Fundamentals Video Tutorial - Streaming
Course author Michael LaFleche is a product manager and value-added reseller for SolidWorks-based solutions in the New England area. He is active in the SolidWorks community, speaking at local user meetings and at the SolidWorks World user conference. He has worked in sales and support, consulting, and in classroom training on SolidWorks software.
Following an introduction, including installation and setup, and a tour of the SQL database, LaFleche begins by explaining how to create a project, archiving projects, and using templates.
He then explains how to create single-line diagrams, adding symbols, working with locations, connecting symbols with detailed cables, and adding manufacturer parts to symbols.
Next, the course covers multi-wire schematics, showing how to draw wires, insert symbols, and add references to single-line diagrams.
Other chapters cover adding references, working with symbol libraries and macros, creating PLCs and a cabinet layout, and reports, including net lists and wire lists, bill of materials, and terminal strip drawings.
"This course will help you gain an understanding of SolidWorks Electrical schematic software and how it works with Electrical 3D through the SQL database, providing the capability for real-time collaboration," LaFleche explains.
"The course provides hands-on examples to try on your own. I hope the course will be exciting and informational, and help you boost your productivity."
Free demo videos and a full list of course contents can be found on the "SolidWorks Electrical - Schematic Fundamentals" training page of the Infinite Skills website:
http://www.infiniteskills.com/training/solidworks-electrical-schematic-fundamentals.html
Infinite Skills offers its "SolidWorks Electrical - Schematic Fundamentals Training Video" either as a DVD or a direct download from the company website at a retail price of $49.95, or as part of its subscription streaming service at a rate of $25 per month. Though the compatibility of programs varies, all Infinite Skills titles and formats are compatible with both Mac and Windows operating systems, and shipping is available around the globe. Additionally, Infinite Skills tutorials are supported by project files which correspond to examples in the videos.
About Infinite Skills Inc.
A leader in the field of software training, Infinite Skills designs its courses on a task-oriented model, teaching complex skills by providing hands-on examples and guiding users as they carry out essential functions. Infinite Skills offers a wide range of software titles available as DVDs, digital downloads, and in iPad editions. Infinite Skills now offers a subscription service, providing access to all its training content for a monthly fee, keeping with company's aim of delivering professional training to customers anywhere they want to learn.