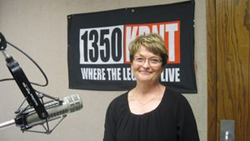 Forty Six percent - 1 out of 2 kids will have a significant mental health issue in their life.
Des Moines, IA (PRWEB) September 23, 2014
Orchard Place, mental health experts for Iowa's children, was recently featured on KRNT's Insight on Business program. CEO Anne Star was interviewed by Michael Libbie about the challenges facing today's children and resources available for mental health issues.
To listen to the broadcast, visit this link.
About Orchard Place:
Orchard Place is the oldest locally-based charity in Des Moines providing mental health treatment and expertise for Iowa's kids. Our inpatient, outpatient and community programs serve nearly 10,000 children from birth to age 22 annually. Four operating divisions work under the Orchard Place umbrella of services: Child Guidance Center, Orchard Place Campus, PACE Juvenile Center and the Integrated Health Program. More information can be found at http://www.orchardplace.org; like us on Facebook at http://www.facebook.com/orchardplace; or follow us @orchardplacedsm on Twitter.