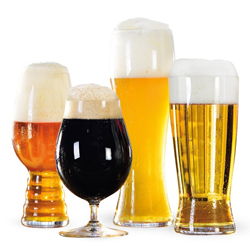 Bar and restaurant owners, as well as consumers, are starting to realize that the kind of glass you use to drink your favorite beers has a profound affect on the taste
Buffalo, NY (PRWEB) September 25, 2014
On Wednesday, October 1st, the KegWorks Store on Military Rd. in Kenmore NY will host a Glassware Specialist from Spiegelau and a Brewery Representative from Southern Tier Brewing Company to give a presentation on craft beer glassware. The event starts promptly at 7pm and will run for approximately 90 minutes.
Attendees will have a chance to try a number of Southern Tier brews, first in a standard pint glass and then in a Spiegelau craft beer glass. The Spiegelau Specialist will then describe the differences between each glass, helping attendees decipher even the subtlest notes and flavor complexities afforded by the specialty glassware.
"There was once a time when every bar served every beer in a standard mixing glass, commonly referred to as a 'pint.' Those days are over," says David Rivers, President of KegWorks. "Bar and restaurant owners, as well as consumers, are starting to realize that the kind of glass you use to drink your favorite beers has a profound affect on the taste."
"Spiegelau is the best in the business when it comes to glassware," says Jason Rowley, KegWorks Category Manager and Glassware Buyer. "They've worked with big name craft breweries like Dogfish Head, Sierra Nevada, Rogue, and Left Hand Brewing to develop the world's first IPA and Stout glasses, both of which we carry at KegWorks."
At the end of the presentation on October 1st, attendees will walk away with a new knowledge of craft beer glassware, along with a 4-piece Spiegelau glassware set and a $10 KegWorks gift card, among other things.
"We're really excited about this event," said Shane Steward, the KegWorks Store Manager. "We've done plenty of tastings, but never a presentation along with it. I think people are in for a treat. There's been a lot of surrounding excitement since we announced it at the beginning of September."
Tickets for the event are $50 and can be purchased at The KegWorks Store, located at 1460 Military Rd. in Kenmore, NY. For inquiries, call 716.929.7570.
About KegWorks:
KegWorks is a leading multi-channel merchant of home and professional draft beer equipment, bartending tools, home brewing supplies, premium cocktail ingredients, and the world's best selection of novelty drink accessories. The KegWorks website was launched in 1998, and their flagship retail store opened in March of 2013. KegWorks is privately owned and continues to be recognized as one of the fastest growing companies in Western New York.