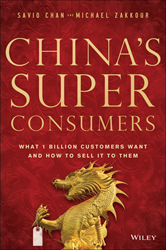 Hoboken, NJ (PRWEB) September 22, 2014
Alibaba Group Holding Ltd. has invaded news coverage these past few weeks and it surged in its U.S. trading debut, after the company raised a record-breaking $21.8 billion in an initial public offering on Sept. 19. A historic debut has not only brought Jack Ma and his e-commerce giant center stage but has undoubtedly caused the world to stop and think about the Chinese consumer.
With China's Super Consumers: What 1 Billion Customers Want and How to Sell it to Them (WILEY; September 2014; Hardcover & e-book; ISBN 978-1-118-83474-9; $25.00), co-authors Savio Chan and Michael Zakkour explore the birth of consumerism in China, who these super consumers are and put into perspective the rise and success of Chinese companies such as Alibaba.com, JD.com and Dianping.com. The book features firsthand accounts documented by business executives, case studies, original research and the authors' personal experiences.
"The successful IPO of Alibaba.com has sparked significant interest by Americans in China and Chinese consumers. Our book assists readers to understand the background and the emergence of China's super consumers on the world stage" says co-author Savio Chan.
Key angles that Chan and Zakkour discuss are:

How did China go from a feudal economy in the 19th century, to Mao and Communism in the 20th century, to the largest consumer market in the world by the early 21st century?
What shift does this indicate in the Chinese consumer mindset, its culture and the technological advancement?
Will this massive push to urbanize propel tens of millions of people and billions of Yuan into the consumption equation? What unique opportunities does this create for Western companies who have dreamed about selling to the Chinese market for hundreds of years?
Most importantly, who the Chinese consumers are, what they buy, how they buy and WHY they buy.
China's Super Consumers: What 1 Billion Customers Want and How to Sell it to Them offers a virtual gateway to China's growing economy and booming marketplace. Serving as a valuable resource for anyone seeking a clear understanding of how "China's Super Consumers" are changing the world and how to sell to them, the book provides an inside look at China's transformation and how Americans can successfully engage in China's marketplace.
About the Authors:
SAVIO CHAN is the president and CEO of US China partners, which provides a full range of professional business services for those American and Chinese companies seeking new opportunities or wishing to expand their existing business into new markets.
MICHAEL A. ZAKKOUR is a principle at the global consulting firm Tompkins Intl. where he heads the "China/APAC Group". He has assisted more than 250 multinational and SME companies in their assessment of opportunities in China and their resultant entry and growth strategies and implementation, including some of the biggest names in retail, consumer products, technology, fashion, and luxury. Prior to joining Tompkins he was managing director of China BrightStar, LLC, a leading China-focused strategy consulting firm.