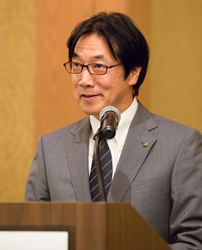 "Yamaha has always taken a long-term approach to our dealer relationships, and forging the same kind of long-term relationship between an institution and a dealer is vital to the sales process," said Bob Heller, Yamaha.
BUENA PARK, Calif. (PRWEB) September 23, 2014
Yamaha Corporation of America hosted its annual Home Office Seminar in August, with this year's training summit for members of Yamaha's national dealer network focused on institutional sales.
The gathering included principals and sales professionals from Yamaha's dealer network, as well as executives from Yamaha's Keyboard Division management team. Several guest speakers from the academic community were featured, including representatives of some of the leading music colleges in the nation. The four-day seminar specifically focused on strategies for Yamaha dealers, fostering sincere and respectful relationships with universities, colleges and conservatories, and founded on the principals of long-term service and support. Bob Heller, national sales director for Yamaha's Keyboard Division, said this year's Home Office Seminar, held at the company's headquarters in Buena Park, California was hailed as a tremendous success by both participating Yamaha managers and the company's retail partners.
"The main goal of this seminar, our third in the Home Office series, was to highlight the complexities of institutional sales," Heller explained. "Selling world class musical instruments to an institution is a more complicated process than everyday retail sales, so we brought together experts in that process to meet with key individuals from our national dealer network. The seminar itself and its value to those who participated couldn't have been better."
In addition to Heller and other executives from Yamaha's Institutional Solutions Group, speakers included Tom Bracy, executive director of the Merit School of Music; Linda Roush, director of Major Gifts at Millersville University; and Dr. William Stowman, professor of Music and Chair of the Department of Music at Messiah College.
"Each of the speakers brought their own expertise and experiences to their informative presentations, but the recurring theme was that a successful sales process for both the institution and the dealer relies upon a strong, ongoing relationship," Heller said. "Yamaha has always taken a long-term approach to our dealer relationships, and forging the same kind of long-term relationship between an institution and a dealer is vital to the sales process."
Hitoshi Fukutome, president of Yamaha Corporation of America amplified that theme: "My thoughts on the matter are similar, but I also believe that the most important relationships don't start with the schools, but rather with Yamaha Corporation of America and the company's valued dealers."
Retail professionals who attended the training summit agreed. Gordon Martin, general manager of the Piano Division for Menchey Music Service, Inc. in Pennsylvania, said that this year's seminar offered a great synergy between collegiate educators, Yamaha staff and Yamaha retail dealers. "We spent several days learning strategies for cultivating relationships with educators and institutions, understanding what the primary needs and interests of the educators are, and discovering how to inculcate these institutional relationships into an ongoing process," Martin explained. "It's encouraging to see the momentum that continues to build toward Yamaha dealers not just being interested in getting a sale, but in contributing long-term toward the educational community in significant ways."
Carol Wu of Roger's Piano, a new Yamaha dealer based in Natick, Mass., said the seminar will go a long way in meeting the needs of institutional customers, a sales and marketing segment Roger's Piano is actively seeking to expand.
"Every topic covered at the seminar was relevant and important. Not only did I learn more about the pianos we sell and support, I gained new appreciation for Yamaha's dedication to education," said Wu, adding that meeting directly with fellow dealers and Yamaha managers and being able to tap into their experience was an invaluable aspect of the seminar. "It reaffirmed why we at Roger's Piano are in this business: to create more music makers."
Darren Spier, an owner of Metroplex Piano serving the Dallas/Fort Worth area of Texas, also viewed the seminar as a success in helping dealers and the music schools and other institutions they serve navigate the sophisticated, often multi-layered sales process.
"These seminars are very collaborative in nature, and the exchange of ideas, best practices and tools to meet the music needs of institutions we as dealers work with will enable us to improve scope and quality of our business," Spier said.
The seminar also featured performances by two gifted musicians and Yamaha Artists—renowned composer and jazz pianist Billy Childs, and critically acclaimed pianist and music educator Inna Faliks.
Faliks also spoke about how she used Yamaha's RemoteLive™, Remote Lesson and other groundbreaking long-distance music education tools available via Disklavier reproducing pianos to teach students in California while she was living in New York. "Inna not only gave a wonderful performance, but also explained in a very personal, practical way how she used the remarkable remote music education abilities of the Disklavier during her presentation," Heller said.
Yamaha's first Home Office Seminar focused on sales and marketing, and last year's centered on the theme of executive management. Heller said Yamaha views the yearly seminars as an investment in the people who make up its dealer network, which he called the backbone of Yamaha's success today and in the future. "Unlike some of our competitors, we do not have a policy of direct sales to schools," Heller notes. "Instead, we rely heavily on our dealer network, so we feel it is in our mutual interest to collaborate and share knowledge. We always come away from these training events with more than when we went in."
For more information, visit http://4wrd.it/YAMAHAUSA.
-END-
About Yamaha
Yamaha Corporation of America (YCA) is one of the largest subsidiaries of Yamaha Corporation, Japan and offers a full line of award-winning musical instruments, sound reinforcement and home entertainment products to the U.S. market. Products include: Yamaha acoustic, digital and hybrid pianos, portable keyboards, guitars, acoustic and electronic drums, band and orchestral instruments, marching percussion products, synthesizers, professional digital and analog audio equipment, Steinberg recording products and Nexo commercial audio products, as well as AV receivers, amplifiers, Blu-ray/CD players, iPod docking systems, home-theater-in-a-box systems and its exclusive line of Digital Sound Projectors. YCA markets innovative, finely crafted technology and entertainment products and musical instruments targeted to the hobbyist, education, worship, professional music, installation and consumer markets.