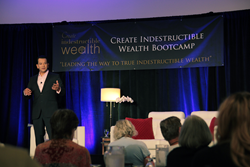 This event has changed my life. I left feeling like I won the lottery.
Los Angeles, California (PRWEB) September 23, 2014
Create Indestructible Wealth held a 3-Day Bootcamp at the Sheraton Gateway Hotel in Los Angeles, California, September 11-13, 2014. The event included individual discussions with guest speakers Cynthia Kersey from the Unstoppable Foundation, Craig Duswalt of Rockstar Marketing and Matt Brauning of Evolution Seminars, as well as panels with Suzy Prudden, Nicole Rhoades and Maryann Ahmen.
"Paul Mata gave us the information to Create Indestructible Wealth, with not only our assets but with our health and mind. Because you cannot have great wealth without great health" Rosemary Workman, an attendee stated. "This event has changed my life. I left feeling like I won the lottery."
During the 3 day financial bootcamp, attendees learned things such as the 3 most common mistakes people make when trying to develop wealth, the 7 secret asset categories millionaires invest in, a step by step system to help grow wealth, and protection from lawsuits. It wasn't all business though – gourmet gluten free meals were provided for lunch, a salsa lesson, VIP dinner and wine party as well as a live comedian added to the fun networking atmosphere.
"I've been to a lot of seminars" attendee Felix said, "but this is a game changer. This one is the only one I would to bring my parents to because anyone can benefit."
The next bootcamp will be held April 30-May 2nd, 2015 in Los Angeles, California. To learn more, visit http://createindestructiblewealthbootcamp.com/.
About Logos Lifetime Enterprises
Logos Lifetime Enterprises mission is to help people lead an abundant and prosperous life with a passion to serve others. They help people of all ages and backgrounds lead better lives by helping them make, sustain, and protect their wealth in any economy.
Logos Lifetime University was founded as developed by Paul Mata who has over 20 years of experience working at a Wall Street Firm as a stock broker and managing principal. After creating more than nine successful companies, Mata decided to establish Logos Lifetime Enterprises in 2012 to teach people everything he learned about creating wealth. Author of the book Indestructible Wealth, Mata is the leading expert on creating holistic wealth. Today Mata focuses on helping people create indestructible wealth through his proprietary 12-step wealth creation system that incorporates growing people's financial assets, as well as their mental and physical assets so they can develop a wealth that can never be destroyed.
For more information visit http://www.CreateIndestructibleWealth.com, like LLE on Facebook and Follow LLE on Twitter.