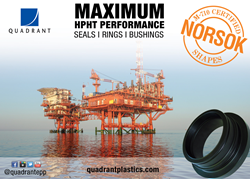 At Quadrant we identified and solved that performance gap between base resin properties and reported shape data properties with Ketron®.
Reading, PA (PRWEB) September 22, 2014
Quadrant Engineering Plastic Products (EPP), the global leader in machinable plastics and stock shapes, will display the latest technology innovations in high performance plastics dedicated to the oil, gas and petrochemical industries at the Pump and Turbomachinery Symposia 2014 in Houston, Texas. Quadrant offers the world's first and largest portfolio of NORSOK M-710 certified stock shapes, prompting an industry-wide shift in focus from resin data to shape data.
Quadrant's Ketron® PEEK stock shapes are the world's first to achieve NORSOK M-710 (sour gas aging) certification. "Certified stock shapes are an industry first, most engineers are used to specifying certified resins. The problem with relying on resin data alone is that any shape converter can take good resin and make a high stress material with poor properties," says Frank Olmos, Quadrant EPP Global Market Segment Manager.
The oil, gas and petrochemical sectors work in some of the most extreme conditions on the planet; extreme temperature and high-low pressure fluctuations (HPHT/HPLT), and corrosive challenges to name a few. As a result, the industry is always searching for ways to fight high maintenance costs and reduced application efficiency.
"At Quadrant we identified and solved that performance gap between base resin properties and reported shape data properties with Ketron®. Our customers buy shapes and therefore rely on accurate shape data, which is why it was so critically important to achieve NORSOK M-710 certification on our shapes – proving to customers they are really getting what they are paying for and maintaining confidence in their applications," says Olmos.
Quadrant has developed dimensionally stable materials that deliver maximum resistance to extreme conditions in downhole, upstream, and midstream applications that also increase meantime between rebuilds in turbomachinery and pump applications. Quadrant labyrinth seals provide greater compressor efficiency, reduce tolerances, and provide the increased performance over a far longer service life. "Due to Quadrant's advancements in material technology, compressor manufacturers are experiencing performance improvements due to superior part design as well as lighter weight components that greatly enhance durability -- all at a lower cost for the production part development, which is not otherwise achievable with traditional materials such as metals and alloys," says Olmos.
Quadrant's other featured material families include Duratron® PAI, the highest performing, melt-processable plastic; Techtron® PPS, boasting excellent chemical resistance and inertness to steam, strong bases, and acids; and Fluorosint® PTFE, proven performer in hostile chemical environments offering dramatic efficiency gains.
See the industry's most innovative and broad family of materials at the Pump and Turbo Symposia, booth #623, at the George R. Brown Convention Center in Houston, TX from September 22-25, 2014. Application specialists and technical experts from Quadrant will be on-hand to answer questions and provide expert guidance in applications.
About Quadrant Engineering Plastic Products:
Quadrant Engineering Plastic Products (Quadrant EPP) is the worldwide leader in high-performance and advanced plastic & polymer innovations. Its superior products range from UHMW polyethylene, nylon, and acetal to ultra-high performance polymers that resist temperatures to over 800°F (425°C). Quadrant EPP's rods, sheets, tubes, and custom shapes are widely used in food processing and packaging, semiconductor manufacturing, aerospace, electronics, chemical processing, life sciences, power generation, and construction & heavy equipment industries. Showcasing the largest portfolio of engineering plastic materials in the market, Quadrant EPP's global footprint includes over 2,000 team members across the world from application development and technical service engineering to branch offices and technical support. For further information, please visit quadrantplastics.com or via social media under "quadrantepp" on Facebook, YouTube, Google+, and Twitter.
Acetron, Borotron, CleanStat, Duraspin, Duratron, Erta, Ertalyte, Ertalene, Ertalon, Extreme Materials, Fluorosint, Ketron, MC, Monocast, Nylatron, Nylasteel, Polypenco, Proteus, Sanalite, Semitron, Symalit, Techtron, TIVAR, and Vibratuf are registered trademarks of the Quadrant group of companies.