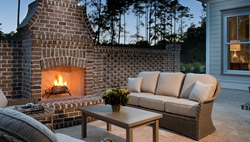 Award Winning Coastal South Carolina Community
Bluffton, South Carolina (PRWEB) September 23, 2014
For inspired cooks; this is the guide to creating authentic southern recipes. For brides-to-be; this is the manual to organizing the perfect reception. For retirees seeking Lowcountry real estate developments; this is the creed to building the perfect home in the top retirement destinations in the U.S.
Southern Living Magazine has been an icon in the publishing industry since 1966. The publication is now one of the largest lifestyle magazines in the nation and caters to 15 million readers who love the learning about southern cooking, weddings, decorating, travel, shopping and of course, homebuilding.
This year, Palmetto Bluff is the host of the Southern Living Idea House and the community is loving the attention! The magazine has been covering residential architecture and design for 25 years, and it is celebrating its silver anniversary with the creation of this home and other model homes located in this Bluffton South Carolina gated community. Baby Boomers can view this home in the River Road neighborhood of Palmetto Bluff, and find new inspiration from its breath-taking design and furnishings.
Tours are going on now and are offered Wednesday-Saturday from 10 a.m. to 4 p.m. and on Sundays from noon to 4 p.m. The tours will end on December 14, 2014, so it is really important to plan a visit soon while the home is open to the public! Visitors can make the most of their exploration around the area. From visiting trend setting model homes built by Shoreline Construction or just taking a breather around town, Baby Boomers are loving area and choosing to stay for their golden years of retirement.
The new cottages in Bluffton and the Southern Living Idea House are grand attractions, but this coastal community has more to offer inside and outside its gates. Palmetto Bluff is known for having some of the finest 'trophy' properties in Coastal South Carolina. The homes have price tags which begin in the $600k's. Palmetto Bluff is known for more than their new cottages in Bluffton. The amenities capture the hearts of residents and make this one of a kind Lowcountry real estate development a priceless investment.
Palmetto Bluff earned Real Estate Scorecard's Bliss Award for 2014 Best South Carolina Community of the Year. This gated community is the epitome of Lowcountry living in Bluffton, South Carolina. Fifteen miles of riding and walking trails combined with the 6,000 acres of nature preserve gives the new cottages in Bluffton, stunning Shoreline Construction masterpieces and Southern Living Idea House a touch of simplicity and down-to-earth attitude. While the natural amenities give retirees and families a reason to invest in this 20,000-acre gated Bluffton South Carolina community, check out the sports amenities Palmetto Bluff offers their resident members for a fraction of the cost of other communities:
PALMETTO BLUFF AMENITIES
24 Hour Manned Gated Entrance
18 Hole Championship Golf Course designed by Jack Nicklaus
5,000 Square Foot May River Golf Clubhouse with dining
The Inn & Spa at Palmetto Bluff with heated Swimming Pool
River House Fitness Center and Heated Lap Pool at the Spa
River House Restaurant
Longfield Stables - Full Service Equestrian Center
24 Stall Barn, Covered Arena, Practice Course
Wilson Landing - 80 Dry Storage Boat Slips, Boat Rentals and Outfitters Center
Wilson Lawn & Racquet Club with 8 Har-Tru Tennis Courts & Two Bocce Ball Courts
Wilson Village - RT's Market, Chapel, Shops and Restaurants
Canoe Club & Fitness Center with Jacuzzi and Kiddie Pool
Canoe Club Restaurant
15 Miles of Riding and Walking Trails
6,000 Acre Nature Preserve
While these amenities will suit the needs of anyone, this community is perfect for people interested in making their homebuilding experience an art. Folks from Shoreline Construction, a well-known homebuilder of the area, can help retirees create their very own low maintenance Southern Living Idea House. This is a perfect solution for those who want to invest in Lowcountry real estate developments and live in a comfortable well designed community. The price tag of Palmetto Bluff is fitting for the superior lifestyle and high quality amenities it offers.
For more information about the homes at Palmetto Bluff or to learn more about homebuilding and construction in this gated community in South Carolina, contact Tom Jackson of Gateway Realty direct at 843.757.7710 to schedule a tour.
About Real Estate Scorecard:
Real Estate Scorecard writes unbiased real estate reviews providing in-depth information about popular gated communities in Florida, Georgia, North Carolina, South Carolina and Tennessee, all in an effort to help people discover where to retire in the Southeast.
Website: http://realestatescorecard.com