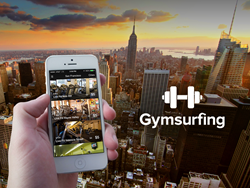 For the vast majority of travelers in New York City, there is no hotel fitness center. That's where we come in.
New York, NY (PRWEB) October 07, 2014
A Brooklyn-based startup is helping Airbnb travelers work out while they're exploring the city that never sleeps.
Gymsurfing is a mobile app that lets travelers book day passes to gyms nearby, starting at just $5 per workout, contract-free. Users simply load the app, find a New York gym and book a day pass in two taps. The Gymsurfing app currently has over 30 gyms in the New York area in Manhattan, Brooklyn, Queens, Staten Island, New Jersey and Long Island. The company hopes to serve a much-needed role for the fitness-minded traveler.
Gymsurfing co-founder Kevin Bracken explains: "Since 2012, Airbnb has put more heads on New York pillows per night than every hotel in the five boroughs combined," he said, "and for the vast majority of those travelers, there is no hotel fitness center. That's where we come in."
"I love the fact that I can work out while I'm traveling and my home gym isn't around," says Bryan Tharalson in an App Store review, "Why has nobody done this yet?"
Gymsurfing plans to continue expanding across the New York area and beyond.